Buying a pair of sunglasses? Chances are you already own more than one and might already know what you're looking for, BUT, in case you don't, we put a resource here to help making your decision easier and a bit more simple. We'll keep adding to this keeping up with trends, styles, etc.
Not sure what sunglasses are the best fit for your face type?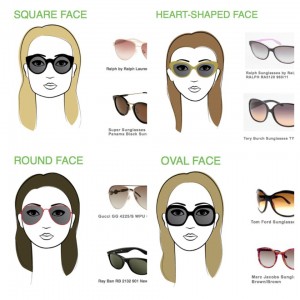 SUNGLASSES FITTING GUIDE: BEST FIT FOR YOUR FACE
Round and Retro

Ray-Ban RB3447

Tory Burch 9017

RetroSuperFuture Paloma
Plastic Aviators
D&G 3065
Ray-Ban 4180
Classic Wayfarers

Ray-Ban RB2140

Basic Wayfarers by RetroSuperFuture
Mixed Metal

D&G 6088

Tom Ford Miguel

Panama by RetroSuperFuture
The Classic Rectangles

49er by RetroSuperFuture

Polo PH4049
Ray-Ban Classics & Icons

Ray-Ban Wayfarers

Ray-Ban Aviators

Ray-Ban Clubmasters
Cat Eye / Vintage

Tory Burch 9012

Lucia by RetroSuperFuture
Sports & Outdoors

Electric Charge

Von Zipper Fulton

Ray-Ban RB2027
Shield Aviators

D&G 8039

Versace 2054
SHOP BY LIFESTYLE:
– GQ Sunglasses
– Outdoors Sunglasses
– Hipster Sunglasses
– Fashionista Sunglasses
– Young Livin'Sunglasses
Wondering what's hot? SHOP BEST SELLING SUNGLASSES
Making a decision whether to buy polarized or non-polarized sunglasses? It's important to understand the difference! Here you go!
– What are Polarized Sunglasses?
– Polarized vs. Non-Polarized Sunglasses