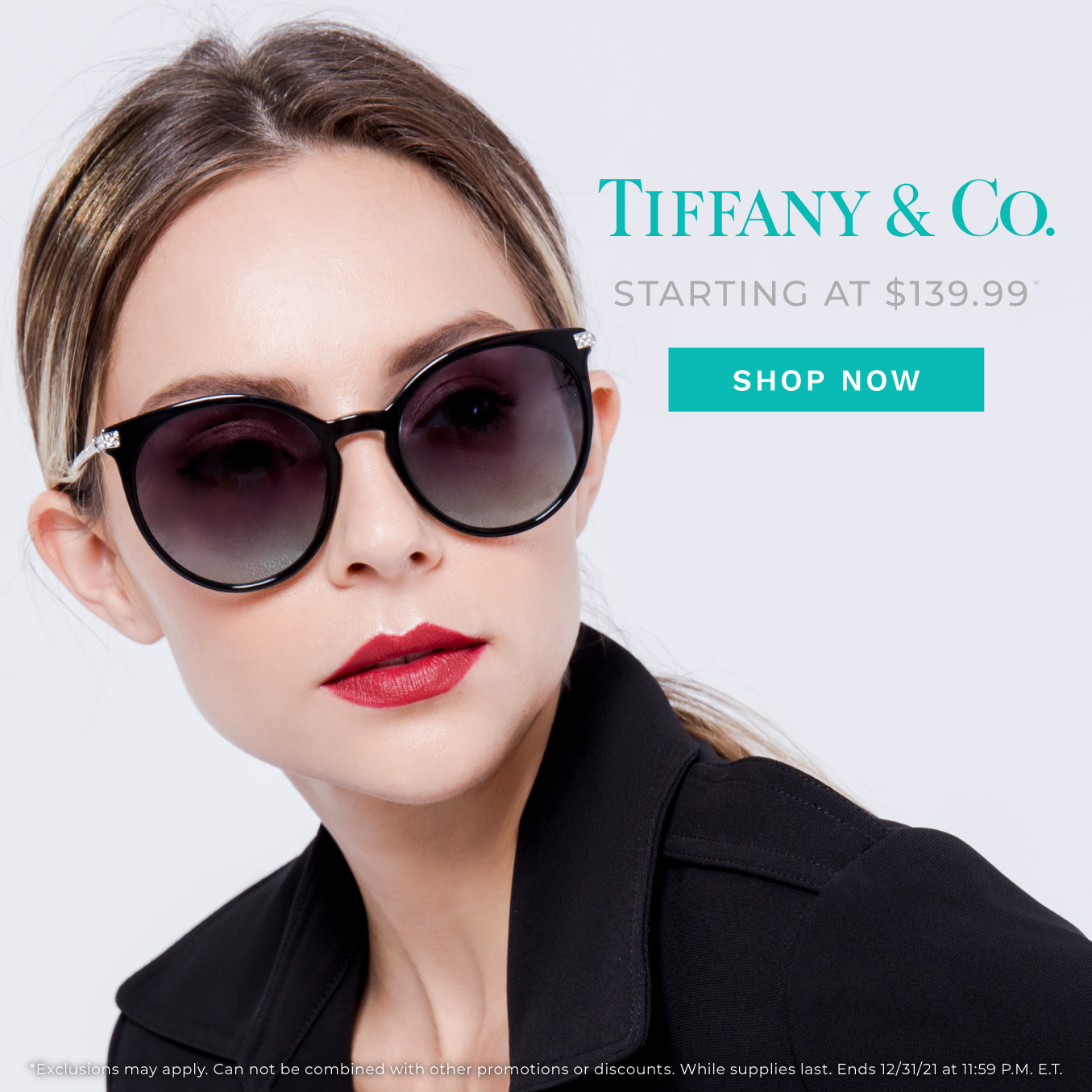 ShadesDaddy is proud to announce our Tiffany holiday sale, exclusively for all of our loyal ShadesDaddy customers! This holiday season, be prepared to look your dazzling best in any pair of Tiffany eyewear, with prices as low as $139.99.
Best known for its jewelry and elegant designs, Tiffany expanded its high-end line into the world of designer eyewear in 2008. Their sunglasses and glasses are every bit as 'Tiffany' as the rest of their stylish and graceful products.
Because Tiffany is synonymous with an elite New York vibe, there is a price tag that is commonly associated with the brand name. At ShadesDaddy, we're making luxury affordable this holiday season. Our Tiffany holiday sale will bring an unmatched sophistication to you and your loved ones with a wide selection.
Tiffany has maintained their level of modern luxury with their many frame options. Tiffany offers eyewear with options of gold or silver hardware for frame materials in addition to frame color options ranging from rose-gold to brown to blue and more.
Unique to Tiffany are its iconic Tiffany blue robin egg color. Tiffany & Co eyewear features this color on its packaging, meaning the stylishness is felt before one even tries on the eyewear.
ShadesDaddy is excited to exclusively offer our Tiffany holiday sale with pricing lower than one might expect. Be prepared to fill your holiday wish list early this year with this exciting sale, but only for a limited time. Pricing like this on our high-end Tiffany eyewear won't last long, so you will want to make sure you jump on these designer doorbuster deals.
Some of our featured Tiffany eyewear includes these red-carpet style designs that will be sure to turn heads wherever you go. Tiffany offers taste and refinement with frame designs for every face shape, including cat-eye, butterfly, irregular, oval, pilot and rectangular-shaped frames.
Take advantage of this fantastic deal this holiday season!
Tiffany Eyeglasses for Sale
Not only has Tiffany cornered the market in the sunglasses world, but the elegant Tiffany line also made its foray into the glasses spectrum, setting the scene on fire. With an elegance and style only Tiffany can uphold, their eyeglasses give off a sophistication and panache synonymous with their chic brand.
With all of your holiday shopping coming up, make one of your stops at ShadesDaddy.com. Not only do we already offer the best pricing for all designer eyewear, but we're also giving more savings to our customers this holiday season with our elegant line of Tiffany eyewear.