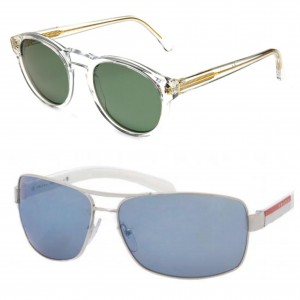 While sunglasses are usually associated with sun, summer, and heat, they make a practical, fashionable, and protective accessory during the winter too. The snow can reflect up to 80% of the sun's rays, making winter a challenging season for your retinas. Sunglasses can not only protect your eyes from harmful rays, but they can also make a stylish addition to your puffy parka and knitted scarf. Early morning commutes can be made bearable by putting on a pair of high-quality shades. Winter mornings are infamous for the sun's low position in the sky, which makes you car's sun visor almost useless. However, a stylish pair of sunglasses can make your long commute far more enjoyable.
Robert Pattinson knows how important protection from the sun is in the winter. He is often spotted sporting stylish Ray-Bans, wearing the Wayfarer model in his hit movie Twilight. Tom Cruise sports Ray-Ban Aviators often, probably because they remind him of staring in his thrilling 80s action movie, Top Gun. Brad Pitt, the object of many women's fantasies, likes to sport shades by Marc Jacobs in the winter, making him another fashionable role model for protective eye-wear.
If you're worried about looking a bit too "corporate," put your fears aside. RETROSUPERFUTURE shades are sunglasses with an edge. Available in many different colors, these sunglasses can add a touch of individuality and edginess to even the most conservative three-piece suit. Adding a pair of RETROSUPERFUTURE Paloma Crystal sunglasses to your work outfit is the perfect way to inject your personality into your business attire. As an alternative, you can try out their Classic Havana frames, which add a touch of Hunter S. Thompson rebel attitude to any attire.
If the brand name Prada puts you off because it reminds you of your girlfriend or wife's $450 crocodile skin handbag, take another look at the fashionable men's sunglasses from Prada Sport. These sunglasses can make you look and feel like a celebrity the minute you put them on. Prada polarized sunglasses come in a variety of styles that compliment any face, any outfit, and any sense of style. These unmistakably masculine shades are perfect for a day relaxing at a ski resort, or simply shoveling your front walk after a blizzard.
If you're looking for a sleek, edgy, futuristic pair of shades to don this winter, look no further than the Electric Knoxville Matte Black Grey Fire Chrome. A tongue twister to be sure, but these frames are out of this world when it comes to style. The black frames make the orange polarized lenses pop, meaning that you are sure to be noticed after you put these bad boys on your face. They are a stylish choice for even the most no-nonsense dresser. These shades will give you all the style and protection your eyes need for winter 2012.