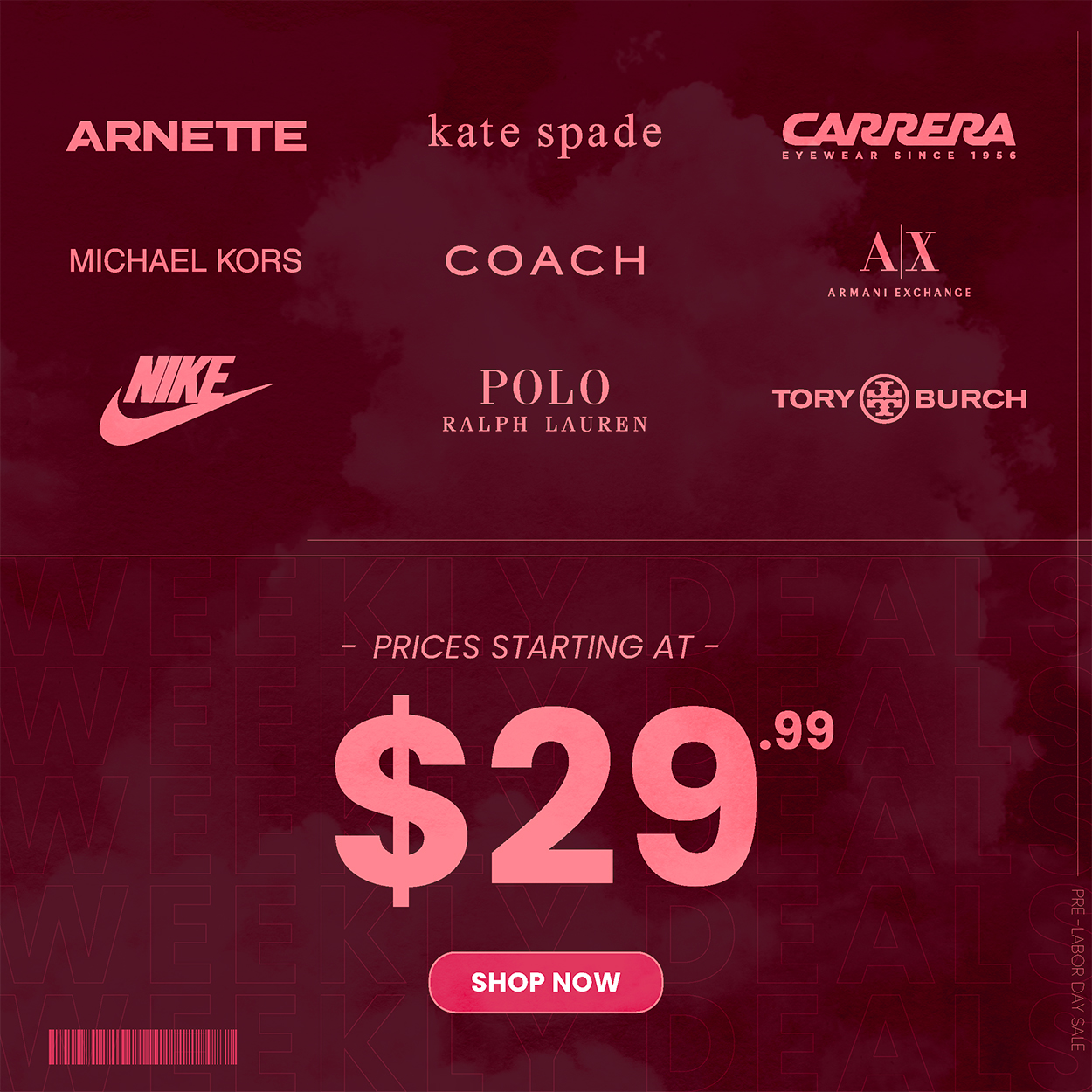 Sunglasses Sale: Pre-Labor Day Sale
The savings don't stop at ShadesDaddy. This brand new sunglasses sale is our PRE LABOR DAY SALE and it's going on right now. Now, all of the brands in this collection can be yours at some of the lowest sale prices ever. We're talking polarized lenses, the hottest frame shapes, and more! Check out the items below, plus much more on ShadesDaddy, and see which ones best fit your own style.
Arnette

Founded in 1992, Arnette has been a leader in extreme sports and youth-centered eyewear. Known as one of the hippest brands for the younger generations, the brand is all about responsible sourcing and using materials that are as sustainable as possible. This dedication to environmental protectionism and the latest in frame technology can be seen in every frame the company produces. Grab your pair of these or any of the Arnette sunglasses found at ShadesDaddy.
Kate Spade

With the company's founding in 1993, Kate Spade set out to produce a wide array of high-end products marketed toward women. As the brand grew, its focus on handbags and ready-to-wear pieces branched out to the beautiful line of sunglasses and eyeglasses we see today. Specializing in big, beautiful ways of accentuating the female form, Kate Spade always has something special for every body type and taste level. Featuring some of the trendiest frames, the brand is always ahead of the curve. Grab these, or any of the other gorgeous pairs of Kate Spade frames at ShadesDaddy today.
Ralph Lauren

Started in 1967 by designer Ralph Lauren, the Polo is as American as any. Offering quality products and high-end fabrics in a variety of ready-wear collections, the Ralph Lauren brand and the other brands under its umbrella, provide beautiful styling in the grand tradition of American fashion. Make sure to check out our Ralph Lauren line, and save big during our huge Pre Labor Day Sale.
Michael Kors

Launched in 1981, the Michael Kors brand started on the rack of Bergdorf Goodman and the company hasn't stopped since. Providing some of the trendiest designs in American eyewear, the brand doesn't fail to give customers the hottest trends. Releasing a large number of products into the marketplace each season, Michael Kors remains top of mind when it comes to men's and women's fashion. Grab either of these or any of the latest from the PRE LABOR DAY SALE at ShadesDaddy today!

Show off your savings today!
Tag @ShadesDaddy on Instagram and show us how you wear your ShadesDaddy frames today!
Sign up to get the latest deals delivered right to your phone!