In one of our last post, we talked about the different Ray-Ban Aviators Sizes they come in. Today, let's talk about the different lens sizes the Ray-Ban Wayfarers come in. As you may already know, there are many different styles in the Ray-Ban Wayfarers collection. We get asked 100 times a day about the different lens size on the Wayfarers, so, why not create a blog post about it that will help thousands of people understand the different sizes they come in and which one is a better fit for you.
You'll see below we're going to do a short video series on the different lens sizes for Ray-Ban Wayfarers. Each video will be specific to one style of the collection.
Ray-Ban RB2140: Let's start with the very classic RB2140. This is the most classic of the Wayfarer collection which comes in two lens sizes (but now Ray-Ban has also released a third size which I'll mention.)
Current Sizes
50MM = Small/Medium
54MM = Medium/Large
Measurements:
Temple Length: 142 mm
Frame Width: 144 mm
Weight: 1 oz
Lens Height: 40 mm
Lens Width: 48 mm
Bridge: 12 mm
The newer size in the RB2140 is the 47mm = Very Small/Small.
Ray-Ban RB2132: The RB2132 is the new Ray-Ban Wayfarer. Unlike the RB2140, these sit straight on your face and do not have as square of a look. This shape may fit more face shapes better than the RB2140.
Current Sizes
52MM= Small
55MM = Large
Measurements:
Temple Length: 138 mm
Frame Width: 137 mm
Weight: 1 oz
Lens Height: 36 mm
Lens Width: 52 mm
Bridge: 15 mm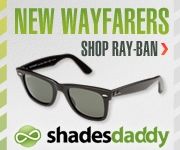 Ray-Ban RB4105
: The Ray-Ban RB4105 is the foldable Wayfarer model. Personally, I believe these have the best and tightest fit. They are extremely similar to the RB2140 in almost every sense, of course, except for the fact that these fold.
Current Sizes
50MM = Small/Medium
54MM = Medium/Large
Ray-Ban RB2151: These Ray-Ban Wayfarers are not as popular as the three mentioned above but a great style, nevertheless. These are more 'squarish' than the others.
Current Sizes
52MM = Small/Medium
55MM = Medium/Large (phasing out.)