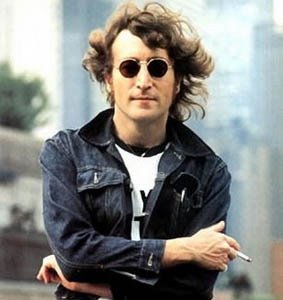 Every fashion follower knows that fashion trends and eras have a way to always come back with a slightly more modern alteration to its designs.
1980's dropped crotch pants, leggings, boyfriend jeans, oversized blouses and sweaters, amongst many others have been a big part of Spring and Fall collections for the past seven years, and Ray-Ban designers have taken notice. That is why in late 2007, the Wayfarer was re-launched to become Luxottica's third best selling style.
For Spring 2011, they decided to try their luck again by re-launching in February, one of 1970's most popular Ray-Ban (RB 3447 001 ) shades worn by no other celebrity icon than John Lennon.
These completely round shaped sunglasses are now being sported by hippie celebs such as Mary Kate Olsen and eccentric Lady Gaga. Reminiscent of Lennon's signature glasses, round frames have been popping up from various brands in different colors and with some modifications over the last year. Take a look at RetroSuperFuture's Lucia Black Frame characterized by a petite and thin frame, yet boasts an extremely strong design and Giotto-esque round lens. Along with the re-launch comes their unique "Never Hide. Be Bold. Be You." promotional project where customers not only get to purchase these cool oval lenses, but also participate and interact directly in Ray Ban's advertising campaign.
The promotional venture addresses the concept to encourage people to express their unique individuality and authenticity by taking their picture through an empty white frame with the words "Never Hide" an the top-center and submitting the photos to the RayBan.com website.
Sunglasses are the type of accessory that can transport anyone wearing a pair into the past or future and change their bland simple outfit to a funky, retro winning look, so when choosing a model like this classic iconic, be sure to know you're in for a lot of compliments!