Sunglasses were first seen in 12th century China; they were made of smoky quartz and were mainly used by judges in court. This would shield the expression of the judge when questioning a victim. Oh how time has evolved, now sunglasses are used to protect the eyes from UV rays and as a statement piece. Sunglasses are now used as a must have accessory, no outfit is completed without one.
The hard part when buying sunglasses is finding one that looks good on you. The first step to getting great sunglasses is to determine your face type and what styles look good on you .
Face Shape:
Square:
Women– Try styles that are curvier like round or cat eyes this will compliment your angular features.
Men– Usually men want to emphasize their strong jaw so sunglasses with sharp angles work best.
Triangle:
Women– This is what we know as the heart shaped face, go for the cat eye frames or a frame that has rounded edges.
Men– Try one with a wider lower edge and no straight lines on top (this also applies for women).
Oblong:
Go for sunglasses that are oversized, try round or rectangular that have thick frames so it can add width. Frames with decorative frames also work.
Round:
This face type has the most noticeable curves, so the sunglasses should have very little curves. Go for ones that have narrow are high- templed and have colorful frames.
Oval:
This type of face is the easiest to work with; it works well with any type of sunglasses. Choose ones that cover your face from the eyebrows to the cheekbones.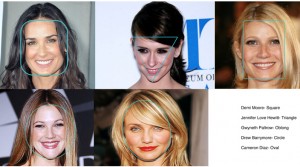 (click to enlarge image)
Step two to your process is getting sunglasses which will protect you from the glare. So choose ones that have UVA and UVB protection. If you are constantly outdoors then go for ones that are polarized, this will help you see everything clearer. When choosing these sunglasses check that they are ANSI compliant, these have actually been tested to protect against impact.
Your last step is deciding which brand to buy, even though many people don't want to spend money on designer glasses it is advisable to do so. One might go for the knockoffs, they might be easier on the pocket, but are not favorable for eyes. So spend a little more and protect your eyes, there are many places which have designer sunglasses at a discount.