I'm super excited that fall is finally here, even though I still can't wear fall clothing since we are in Florida. Sooner or later the chilly weather will arrive and although it doesn't snow in Miami, we wait anxiously for the chill to creep in so we can pull out our sweaters.
So what are some fall essentials that should be in all our closets in order to look fashionable and good?
• Bold Colors– Even though the season is known for its browns and beige, fall 2011 has re vamped itself. Whether its pants or coats choose bright colors, you'll find these pieces in every imaginable color.
• Mod Fashion– Designers have brought the 1960's style back, so look for boxy silhouettes, Peter Pan collars and A-line coats. Rock some knee high boots and when it comes to the color palette for this era, go for pastels.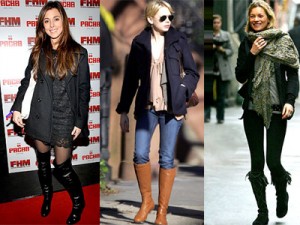 • Pullover Sweaters– When it comes to fit pick one that is loose and goes past your hips. You can pair these with leggings, skinny jeans or even tights.
• Printed Fabric– This depends on what you like you can try anything from bright geometric patterns to flowers.
• Fringe– Don't go to over the top with fringe, try a fringed scarf or boots these are subtle and you will definitely be a fashion do.
• Fur– Choose faux fur people! You can find numerous styles within your budget. You can wear these both day and night.
• Boots– This depends in what you like, if you want some height, suede or leather. But one that never goes out of style and are super comfortable is the ridding boots, which can be found in blacks and browns, or both.
Now that you know the essentials for fall go ahead and checkout what you have and which of these are missing in your wardrobe.