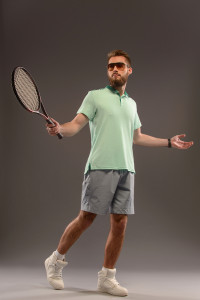 A good pair of sunglasses can help in controlling glare and protecting your eyes against sunlight.
Key Qualities of Tennis Sunglasses:
The sunglasses should be light in weight so that you can play the game freely
Wrap around style sunglasses are a good choice because they give a clear view of the court.
Lenses to Look For:
Smoke Lenses
They help in reducing the brightness and improve visibility even when it is extremely sunny.
Yellow Lenses
Yellow lenses filter out blue light, and improve contrast on hazy days. Look for lenses made out of polycarbonate plastic so that the sunglasses don't slip off easily.
Grey Lenses
These lenses can be used in sunny days, and since they are polarized, they help in reducing glare. Grey lenses help in keeping away eye fatigue and provides true color perception. These lenses are great for tennis players who spend hours under the sun.
Amber Lenses
Amber lenses help in enhancing the vision which allows you to see shapes clearly and get a crisp vision. They are good for early mornings and late afternoons when the sun is out but the light is not too harsh, and are also suitable for foggy days, which is suitable for people who live in places where the weather changes often. Amber lenses work great when it comes to enhancing depth perception and reducing glare, which is the reason why these lenses are suitable for tennis is because they help the player to focus on a distant object.
Roadster
Roadster lenses reduce eye strain, sharpen vision, increases visual depth and help in improving the contrast, which makes it suitable for tennis.
Mirror Lenses
Mirror lenses have reflective surfaces that are great for sports that have high glare possibility, which includes tennis.
Colored Sunglasses You Can Consider
Polarized Polycarbonate Blue PolarVue® HD Lenses
These lenses enhance contrast, reduce glare and are great for all sports. Since the lenses are blue, it helps in highlighting contours that is great for all sporting activities.
Polarized Polycarbonate Green PolarVue® HD Lenses
These lenses work great in bright light conditions and reduces glare, which makes them suitable for sunny days.
Jonathan Paul Fitovers Eyewear™
It has over eight colors and uses PolarVue Technology. The glasses are polarized, which cuts out glare and makes it a good choice for sports that are played under intense sunlight.
Common Pitfalls
One problem of using sunglasses during tennis is that they tend to slip of during the game and can also affect the ability to see the tennis ball clearly. Make sure that the glasses you buy help in diminishing glare so that you can focus on the ball. Furthermore, the glasses should have a good grip on the nose in order to ensure a proper fit. The lens color is also extremely important as each color has its own advantages.