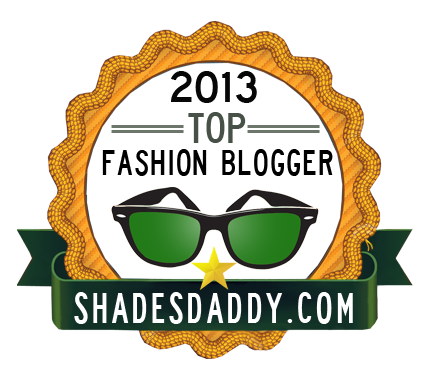 With more blogs out there than we know what to do with, ShadesDaddy.com scoured the internet for the most influential fashion sites on the web in 2013. We went after the brains behind the most badass of fashion blogs – the influencers and pioneers who live, breath and bleed fashion.
Our list of the Top Fashion Blogs of 2013 took into account their flawlessly curated outfits, front-row fashion week access, and social media style clout. These days, to be a top blogger you need more than just a great closet and best friend with a camera – you need to be at the top of your game when it comes to fashion, personal style, trends and predictions, accessories, beauty, and lifestyle. The ones who made this list have all this, plus their own killer brand strategy and of course personal style.
From beautiful photos and Instagram followers to monthly page views and press coverage, the top fashion bloggers of 2013 that made this list are as legit as they come, with the stats to back them up.
The Man Repeller's Leandra Medine described a Man Repeller as one who outfits oneself in a sartorially offensive mode that may result in repelling members of the opposite sex. Such garments include but are not limited to harem pants, boyfriend jeans, overalls, shoulder pads, full length jumpsuits, jewelry that resembles violent weaponry and clogs.
Bryan Grey Yambao, better known by the pen name of Bryanboy, is a Filipino fashion blogger. A former web developer, he started his fashion blog at age 24 from his parents' Manila home featuring pics, pictures, photos, images, videos and commentary on trends and pop culture.
Ari Seth Cohen roams the streets of New York looking for the most stylish and creative older folks. He encourages respecting the elders, and let these ladies and gents teach you a thing or two about living life to the fullest. Advanced Style offers proof from the wise and silver-haired set that personal style advances with age.
One of the largest independent fashion news sites, Fashionista is a finely curated collection of fashion news, criticism and career advice. As comfortable on the catwalk as it is in the aisles of Target, Fashionista is one of the most influential voices as an agenda-setter for the industry as well as influential fashion-focused consumer.
Swiss-born, French-speaking Yvan Roddic is more than just a fashion blogger or street style photographer, the FaceHunter is a cultural explorer or 'blog-trotter' — a new breed of traveller on a perpetual mission to scout out the latest global trends, current cultural happenings, and of course – fashion.
Le Happy sprang from FIT fashion student Luanna Perez-Garreaud who is originally from Peru, now living in New York. Le Happy provides daily outfit ideas and shares her personal style which is a mix of 70's hippie and 80's punk rocker.
Tommy Ton is a Canadian photographer known for his fashion blog Jak & Jil, and his street style coverage of international fashion weeks on Style.com and GQ.com. His favorite subjects are fashion editors, the likes of Carine Roitfeld and Anna Dello Russo.
Aimee Song – fashion blogger and interior designer – curated her blog like she describers herself: fun, easy going, and colorful, a mix and match of styles with underlining Californian roots. She admits at one point she did want to be a fashion designer, just so she could crip-walk after the finale on the catwalk.
The Fashion Bomb blog is the web's number one destination for multicultural fashion. Created in August 2006 by journalist Claire Sulmers, The Fashion Bomb provides daily doses of chic to savvy stylistas. Recognizing there were few print and online sources for urban fashion, Claire created an online destination for sassy global chic seekers with a penchant for all things fabulous.
True to her eclectic personal style, Sea of Shoes Jane Aldridge takes a little bit from her Texas roots, dashes some inspiration from her travels to Paris and Toyko, and comes up with mix of over-the-top drama and color with roughed up masculine basics.
Loren Ridinger is Senior Vice President of Internet retailing giants MarketAmerica.com and SHOP.COM. Loren is an Internet mogul who has changed the face of the beauty and Internet shopping industries over the last 20 years. Her impeccable style has established her as one of today's leading trendsetters; she was included in Vogue's Top 100 influential women and selected by Haute Living Magazine as one of New York and Miami's most influential people.
Originally from Finland, Sandra lives in London and studies fashion design at London College of Fashion. Her blog was inspired by a love of stilettos, platforms, and other teeteringly tall shoes. Her signature wavy blond hair has gotten almost as much love as her daily outfits, incredible shoe collection, and enviable stash of designer handbags.
Fash-N-Chips is a blog from The Netherlands. Christine has a lovely modern and tomboyish style. Her blog is a great place for inspiration in the form of collages, street style, editorials and designer collections. She has a chic, strong style that proves less is more.
Founder/blogger/photographer Scott Schuman began The Sartorialist with the idea of creating a two-way dialogue about the world of fashion and its relationship to daily life. In addition to the blog, Schuman's work has been featured in GQ, Vogue Italia, Vogue Paris, and Interview; for GQ, Schuman shot and edited his own page for over three years.
American It girl and socialite Olivia Palermo started her blog to showcase her personal style, fashions and designs she loves, and the individuals who excel in these industries around the world. Olivia has a modeling career that has included shoots for Elle, Tatler and ASOS, in addition to being a front row fixture at fashion weeks around the world like NY Fashion Week, Paris Fashion Week, and Milan Fashion Week.
A PAIR AND A SPARE
Since 2009 this blog has been a place for Geneva Vanderzeil to share how-to's for all aspects of life, be it DIY fashion, home projects, wardrobe or travel. Her personal style influences her projects across sewing, thrifting, and creating perfect before- and -after projects.
UK blogger Kavita Donkersley started the She Wears Fashion blog to record her fashion musings. Starting at the tender age of 16, the blog was primarily a place to express her interest toward vintage fashions and thrift finds, but has now expanded into daytime outfits and occasional beauty and lifestyle posts. She has seen coverage by TopShop, MTV, stylist.co.uk, Elle Spain, More Magazine, GLOSS magazine, London Fashion Week Official, Cosmopolitan, and more.
THE THREE F
Milano-based Filippo Fiora is an Architect while Filippo Cirulli a graduating marketer from Bocconi University. They started The Three F to quench their big thirst of fashion and to spread the Italian sense of style. They work with brands related to the world of luxury as well as upcoming brands dedicated to personal male outfits.
VOGUE
Vogue is an American fashion and lifestyle magazine that means "in style" in French and has seen wild success and growth since the 1960s when Diana Vreeland was editor-in-chief and personality, followed by Anna Wintour who has grown the magazine to be published monthly in 23 national and regional markets by Condé Nast. Vogue appeals to contemporary fashion and editorial features openly discussing style, sexuality, and cutting-edge fashion sense.
Imaged Granted was founded by Grant Harris in Washington, DC dedicated to solving the complex image, style & fashion issues of today's professional man. Image Granted helps individual and corporate clients attract, attain, & retain their best image and ultimately, best lifestyle. Image Granted has been featured in The Wall Street Journal, TIME Magazine, The Chicago Tribune, The Washington Post, The Huffington Post, CNN, AOL, Men's Health and others as a regular contributor to men's lifestyle resources.
Who What Wear is the definitive authority for trend-setting fashionistas and their followers between the ages of 18-34 – this multi-media brand has quickly become the essential resource among tastemakers everywhere and is beloved by numerous stylish celebrities such as Rachel Bilson and Nicole Richie, all the while, appealing to all young women with its inclusive voice and approachable take on fashion, celebrity and style.
SINCERELY, JULES
Julie Sarinana founded Sincerely, Jules in February 2009 as a creative outlet to express her thoughts, inspirations, style and love of everything cool. Jules chronicles her daily style, travels and life and continues to inspire and motivate her readers, one outfit at a time. In addition to her blog, Jules has contributed to and been featured in: Glamour.com, Elle.com, E! News, Lucky Magazine, Teen Vogue and Cosmopolitan Latina.
STYLE BUBBLE
Susanna Lau, also known as Susie Bubble, is a writer and editor living and working in London. Lau started her blog 'Style Bubble' in March 2006. It consists of her widely read thoughts, personal experiences and observations on fashion with a focus on spotlighting young and unknown talent. Lau was editor of Dazed Digital, the website of Dazed & Confused magazine, from 2008-2010. Lau now works full-time on her blog and other freelance projects, including writing for Elle, The Daily Rubbish and Dazed Digital.
Rumi Neely is a fashion blogger popular for her style and photography. She began her site in 2007 and combined it with a ebay vintage store called "Treasure Chest Vintage." She is currently represented by NEXT modeling agency. Rumi recently designed two pieces for RVCA and is featured in their advertisement campaign. Rumi can also be spotted in the campaign for the new Forever 21 store in New York City's Times Square.
ATLANTIC PACIFIC

Atlantic-Pacific is the personal style and fashion blog of Blair Eadie. Blair is a lover of all things colorful, chic, preppy and printed. She currently resides in NYC. She has said working in retail and being constantly surrounding by inspiration and creative people was what fueled her love for fashion and styling.
Man Repeller

Song of Style

Sea of Shoes

Sincerely Jules

She Wears Fashion

Fash n Chips

The Sartorialist

5 Inches and Up

Fashion Toast

Tommy Ton

Style Bubble

Atlantic Pacific

A Pair and a Spare

Le Happy

Advanced Style

Vogue

Olivia Palermo

Bryan Boy

Fashion Bomb Daily

Fashionista

Face Hunter

The Three F

Image Granted

My Fashion Cents

Who What Wear