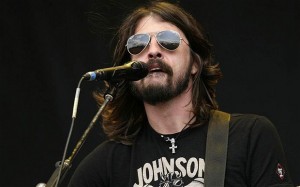 Ever idolized a hunky Dave Grohl on the drums, while the signature Ray-Ban 3025 Aviator Polarized sunglasses perched on his nose winks away the lights? Like most rock legends, Dave Grohl carries his aviators with attitude and panache.
Dave did flirt for a bit with Wayfarer shades, before returning to the original aviator pair. No surprise there. The man and his shades – they are both drool worthy!
Some shades are all style with low function. Not the Ray-ban 3025 Aviators. As with most Ray-Ban aviators, the shades are set in incredibly light, yet strong gold frames, are undoubtedly stylish and offer complete protection from sun glares.
In Dave's case, I bet this also protects him from unwarranted limelight! Made in Italy, the polarized versions bear the classic stamp of Ray-Ban design and quality, and guarantee 100% protection from harmful Ultra Violet rays. Brilliant!
The shades come sleekly packaged in a solid protective case, bearing the awe-inducing Ray-Ban logo. A special cleaning cloth is shipped with the package, providing for easy, dust-free cleaning. The piece is comfortable, yet timeless. This style supports multiple colors, ranging from crystal brown, crystal green, and the newly introduced copper shades. The style also provides an option for mirror coating, further reducing glare and making it comfortable for all outdoor locations. Backed by Ray-Ban precision, the shades have the perfect mix of glass and polarized film. The icing on the cake – that they can also enhance glare free vision in water. Sweet!
The Ray-Bay 3025 Aviator is a classic and has been around for over six decades. If you pride yourself on being trendy with a discerning eye for detail, you can bet on this piece. And why not – this is stuff legends are made of. This iconic pair has remained a favorite through the years, repeatedly sported by rock legends, Hollywood celebrities, sports stars, newsmakers, billionaires from the Forbes' lists and your average Tom, Dick or Joe next door. Beatles, Nirvana, Queen, Guns n Roses – the rock stars sure do rock this one.
Classic, retro, hipster, trendy – no matter what your style, the metal aviator in size 58mm gold is the piece to covet. Oval shaped, they reflect the bold style of Ray-Ban. They are specially designed to flatter all face types and look equally appealing on both men and woman. Iconic, upscale and chic, they're sure to score a perfect 10 on the cool-o-meter!
If you want to rock cool, take a leaf out of Dave's style lessons, and switch to the Ray-Ban 3025 Polarized shades now!