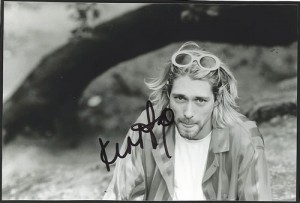 What Type Of Sunglasses Did Kurt Cobain
Wear? Cobain was not merely a singer but a fashion icon. He mesmerized a generation as much with his freaky style statements as with his famously mellifluous singing. People simply adored Cobain and what stood out most in his face were the sunglasses which he sported. In fact his famous song "With the lights out, it is less dangerous" seemed to make it amply clear why he loved the shades that he wore.
In fact what prominently stood out amidst the crime scene of his suicide that left millions around the world broken-hearted was a pair of dark sunglasses. In many of his photographs he can be seen wearing the cat-eye frames. It is something that stands out from among our memories of the grunge-generation days.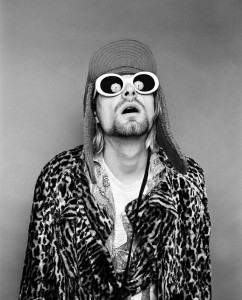 What was more surprising about Cobain was that he never tried hard to be flamboyant. In the 90s he could be seen with a weird round grandma-meets-the-Jetsons kind of sunglasses. In November 1993, just five months before his death, Sunday Observer of London commissioned celebrity photographer Jesse Frohman to shoot Nirvana
while performing at the Roseland Ballroom in New York.
Though two of the band members appeared promptly, Kurt was three hours late but was wearing large white Jackie O sunglasses when he arrived. These are memories Frohman has from the time he had the privilege of meeting the renowned rockstar for the first time. What made the shoot difficult for Frohman was Kurt remaining adamant on wearing the sunglasses throughout the exercise. This eccentric behavior made it difficult for Frohman to make eye contact with the legend.
However, Kurt's favorite eyewear was the 6558 series cat-eye style in white, black and tortoise shell, and the 6556 series round-frames.Though not all men can carry off women's shades, Kurt did it with aplomb much to the chagrin of many male celebrities of his age.
Ask any hack in the US who has chased Cobain in those days and the rocker will inevitably be described as the man sporting those cats-eye dark sunglasses with a white plastic frame. Even at the 1993 MTV awards functions what stood out apart from Cobain dressed up in a sailor-striped top, was his retro, oversized sunglasses.
Cobain committed suicide two decades ago. He was the lead singer of grunge band Nirvana and also it song writer and lead guitarist. He was a troubled soul who used music to give vent to his troubles but what he left behind is an image of a man who never cared how he dressed or looked. What he wore became a style statement. So also was the case with the sunglasses he used. They were odd, freakish and eccentric in their designs and shades, but had the privilege of being the choice of no less than Kurt Cobain!!
SHOP KURT COBAIN STYLE SUNGLASSES