What Oakley Sunglasses Does Ian Poulter wear? Professional Golf can be physically mentally taxing, as you're looking for the perfect hole even as you try to keep track of what your competitor's score is. Ian Poulter eases into his great game of golf with the perfect fitting Oakley shades.
Oakley is a sporty brand that has consistently collaborated with world-class athletes and sportspersons to offer them the very best in sporty eyewear. With the perfect pair of Oakley's perched up your nose, you can run, drive, swing, sprint, do pretty much anything that modern professional athletes do, quite comfortably.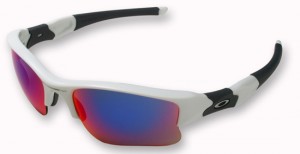 So, what does Ian Poulter wear during his famous swing?
Ian seems to prefer Oakley's Radar Path Fog Red Iradium 26-266 style. The frames are classic retro and come with Oakley's signature O Matter technology for maximum comfort. The lenses are incredibly colorful, much like Ian himself. The shades sport Oakley's Plutonite lenses that are renowned for reducing glare and providing top coverage from harmful UV rays. This pair also comes with nose-pad options to further enhance the fit.

The Oakley Valve is another sleek design that subscribes to Ian's style statement. While this popular pair is best suited for medium to large faces, most Oakley designs come in a spectrum of sizes so you can choose the frames that fit you perfectly. The Oakley Valve's polarized lenses are impact resistant, adhere to ANZ Z80.3 standards and minimize glare so you can stare comfortably ahead as you wait to tune into your golf swing. These shades come in 3 unique colors – black fire, grey and brown to suit your unique design palate.
If you have a style that is as flamboyant as Ian's, be sure to try out the Oakley Bottle Rocket shades. Despite their pink lenses, these are definitely not for the light hearted. They come with semi-rimless frames so you have precise and clear vision with maximum coverage. As one would expect from a brand like Oakley, these shades too are well suited to active and athletic lifestyles.
While Ian has consistently sported an assortment of Oakley's shades while he executes his genius, his favorite pair seems to remain The Oakley Flak Jacket. This is a special edition that celebrates 30 years of sporty Oakley. Its sleek design offers a snug, custom fit without causing discomfort so you can unashamedly wear them all day long during your stint in the sun. They're semi-rimless for wider views and are paired with Oakley's High definition plutonite lenses that provide unconditional protection from UV rays. They also come with Oakley's signature metal icon accents that glint away your flattering sense of style. They're also lightweight and stress resistant so you're not distracted about ruining them during activity.

Phew, that's quite a variation from Oakley! Is it any wonder Ian Poultier continues to endorse them?