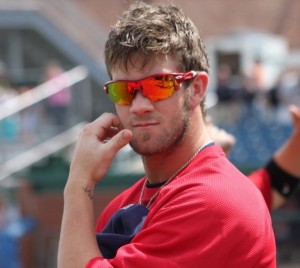 Have you been drooling over the mesmerizing style of the hot shot American baseball outfielder, Bryce Harper? Do those glares look familiar and have you been wondering which sunglasses Harper wears? This is something that has been puzzling everyone from long.
Bryce Harper has been seen sporting the Under Armour phenom. The chic looking glasses which speak volumes of the wearer's personal style and taste, comes in many varieties which guarantee comfort and élan. The under Armour Bryce Harper edition has been inspired by the UA spine technology which present durable frames in an array of hues such as satin white, red, gray or blue, among many other shades. This collection of frames ensures a two way benefit of utmost flexibility and everlasting stability which makes it convenient for the glasses to be self-adjusted without any related discomfort.

Click below to Shop Under Armour Sunglasses:
These lenses are designed to provide maximum undistorted peripheral vision and are facilitated to be 10 times sturdier and stronger than the commonly and extraordinarily produced polycarbonate lenses. These frames are further intricately designed where the frames are created with a brilliant and enduring combination of titanium and grilamid. This securing built of these frames promise uncompromising strength and flexibility to its maximum potential. It just doesn't end here, there are more interesting features attached to the Under Armour collection. They are known to block out all the harmful and disturbing rays like the UVA, UVB and the UVC rays, while on field. The nosepad is rather adjustable which makes it easier to balance in the midst of play. The lens is protected with a coating and is definitely water, scratch, smudge and stain resistant.
With so many benefits, one just cannot miss this one! It provides an absolutely modern yet funky look and complements well with the entire sporting outfit while on field. Harper has been noted as one of the leading players of this professional game and his style of accessorizing is nothing short of perfection. He gives his image a touch of modernity, sophistication and comfort by flashing the Under Armour glares which provide him the comfort, best fit and style on field that he wishes to flaunt. This speaks a lot of his dedication to the game as well as his personal style and preferences. These glasses are differently shaped when compared to the usual ones. They present a more innovative and modern frame that helps in enhancing the features of the wearer and also makes him look more glamorous and fashionable. If you wish to set a style statement like the reputed and much loved Bryce Harper, you have to grab your pair of Under Armour now!
Bryce Harper is also known for putting on a pair of Oakley Sunglasses. Like many (or might even say MOST) baseball players, a pair of Oakley Radar Path or Radar Pitch is always in high demand and MLB style. Check out these extremely popular sunglasses in the MLB world:
OAKLEY RADAR PITCH:
OAKLEY RADAR PATH: