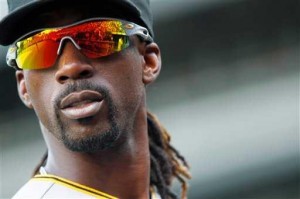 Nicknamed as "Cutch", this 28 year old MLB star sports the cool Oakley Radarlock sunglasses on field. The Pittsburgh Pirates star wears custom Oakleys and although you can get close to customizing them to match his shades, but you may not get the same yellow ear socks that Cutch's Radarlock has.
Based on the latest technology known as Switchlock, this eyewear is one of the most ultimate sport performance products. With the help of Switchlock, the lenses can be changed faster and without any hassle. The lens is held in its place firmly and has minimal chances of getting distorted.
This is what Cutch sports in his custom Oakleys: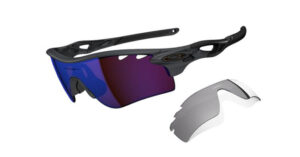 Fire Iridium Pitch lens: These are designed so as to reduce the glare by balancing the light transmission. The lens is coated with super heated metal oxide and is also available in a variety of colors for optimizing vision under any light condition.
Yellow Ear sock: This one is unique for Cutch and is not available even when you custom build your Radarlock Oakley
Polished White Lug
Team Yellow icon
Oakleys are all about comfort and style. Of course integrated with modern technology just adds to the x-factor. Cutch displays on field style and is an icon for many. Even when he is out there playing for the Pittsburgh Pirates in the heat, he maintains his level of being cool and the Oakley Radarlock just gives him that uber cool edge.
As mentioned earlier the Switchlock technology makes fast interchangeability of the lenses and also has an added benefit of cool airflow. It is integrated with optional straight stem geometry as well for people in sports such as baseball, cycling and other games with helmet compatibility. The frame is designed to be lightweight and of stress resistant material. The nose pads and ear socks are made with material so as to allow better grip with excessive perspiration.
The Oakley Radarlock comes with lenses which can be interchanged in a quick and easy manner under any environment. The lenses incorporate Polaric Ellipsoid geometry so as to ensure an optimized peripheral view. They are polarized and hence this reduces the glare.
The Oakley Radarlock was designed for world-class athletes and sportsmen. It offers unparalleled durability and comfort with fast interchanging lens technology. There is an array of lenses to choose from and you can change the lenses to suit the natural conditions be it summers, monsoon or winters. Due to its lightweight and stress free material, it is one of the most comfortable pieces of eye wear available. These glasses picture the youth and adds an energetic personality similar to that of Andrew McCutchen.