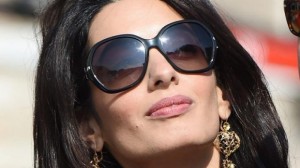 Amal Clooney exiting Maximos Mansion in attired Oscar de la Renta and sporting Prada sunglasses caught the fashion world's imagination like none other. A picture of perfection and sophistication!
Sunglasses have been for long a style statement that women of fashion world have sworn by. They have, at many a times, helped accessorize a good dress to perfection. Unlike bags and watches, sunglasses are more personal and all kinds do not suit all faces. Also all kinds do not complement all attires.
Most celebrities have endorsed the use of glares and have helped brands create and perfect that ideal pair that will be in harmony with the celebrity's personality.

Click below to Shop PRADA Sunglasses:
Women have it better when it comes to sunglasses. There are plenty of models to choose from such as cat-eye, oversize, aviators and wayfarers. Aviators with curved lenses and the brow bar complement most faces while the egg shaped ones are best suited for the strong-jawed. Rounded wayfarers flatter square faces while black frames slim down a full round face. Large oversized circular frames are for angular faces and geometric frames serve round faces well. Try the cat-eye for oval and round faces.
While Amal Clooney seems partial to Prada, there are some very good brands out there that manufacture good quality glares to match every face. One must stick to good brands, since your eyesight may well depend on the quality of lenses that go into making of your shades. Find one that is comfortable to wear with your hair down or tied up and looks good with both the styles.
As with the men, the best way to find a pair that suits you amongst the many women's sunglasses is to select them on the basis of fit – light and comfortable and not resting heavily on your cheeks, lenses – polarized and the color depending on your clothes, and style – depending on whether you intend to use them with formal outfits or wear them at more casual events. One pair may not suit all occasions, so it may be best to find an extra pair for different events. Moreover, women have a choice of colors when it comes to their attire, so a generic grey or black may not always be suitable.
Whatever you buy, be with it! Your style will be accentuated with a pair of good sunglasses and you cannot go wrong if you follow some basic rules when buying your glares. Go conventional or modern, your sunglasses are there to complement whichever look you would like to project. So emulate Amal and get yourself your perfect accessory!