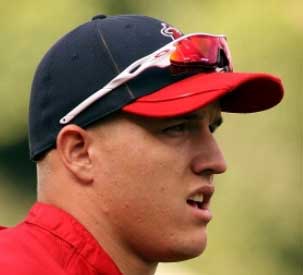 Mike Trout, the famous Angles baseball player who sports a number 27 jersey, is known for his cool and trendy fashion off pitch. The player has a boyish face but with an intense look that matches his stocky, muscular body frame perfectly. The player prefers wearing Nike products when it comes to sports gear and in fact even sports one of their popular sunglass products known as the Nike Show X1 Sunglasses.
The sunglasses he sports are known to be customized by well-known eyewear designer, Recon Northwest, on behalf of Nike. The glasses are tinted and the frame is of printed beige color. So whether he is wearing them on pitch for a match or just sports them upside down over his baseball bat, these sunglasses are known to fit him and suit him to perfection. He does not choose very large glasses as the smaller lens size site well on his cheekbones which not too high and well-defined. He has also known to be face of many other varieties of Nike's sunglasses such as Nike Men's Lunar Vapour.
Mike is most known to put a pair of OAKLEY HALF JACKET. These are some of the most popular pair of Oakley sunglasses among MLB players. They come in different colors!
The other popular sunglass that he wears and whose manufacturer's company has has a stake in is the Oakley Radarlock Path sunglasses. He has sported this pair the most both off and on field and prefers them because of their sturdy performance and their suitability to his face type. Black sunglass lenses with narrow side frames are his favorite pair. He has also been seen wearing an orange-ish hue tinted Oakley pair with a white and black pair of handles.
OAKLEY RADAR PATH SUNGLASSES
These two sunglasses really bring to focus the casual fashion that Mike Trout prefers. While on pitch the red and white uniform compliment his build and looks quite well, off field, Trout usually wears a casual pair of jeans and a t-shirt. He prefers wearing heavy shows from Nike and has sported one of their flashy ones in red body with golden soles too. Many people have commented on his very casual attires on many occasions. On one occasion, he was seen wearing a wearing a blue and white plaid shirt, its long sleeves all rolled up to his elbows under his Angels jersey, baggy black Levis jeans and white sneakers. Being a big man, his wide shoulders complement all sorts of shirts and t-shirts, whether are soft cotton ones or the simple gray t-shirts. V-neck and crew neck sweaters also form a part of his wardrobe. He looks dashing in formal suits too, where he fills a suit with no padding required and prefers deeper hues like black and dark grey suits teamed with light colored shirts, usually in blue, and a tie. Plaid shirts over jeans, a snappy watch and sneakers, that's the quintessential Trout for you.
Shop these Mike Trout Style of Sunglasses Now:
Oakley Half Jacket.
Click to shop the full collection of OAKLEY HALF JACKET.