Sunglasses are sported by individuals, to add an element of style and elegance to their everyday attire. A pair of funky and stylish sunglasses can elevate a regular attire to new and exciting levels, making an individual the centre of attention in a crowd.
Celebrities have been sporting the stylish and highly useful accessory for a long time, making sunglasses an essential accessory to be used by every celebrity fan, for acquiring the stunning style and charming elegance, presented by their favorite stars. Sunglasses were once only considered a useful means of protecting eyes from the glares of the sun, but have now evolved into a style statement, thoroughly enjoyed by multitudes of people all over.
With the advancement of technology, innovative and highly sophisticated methods of designing and manufacturing sunglasses, for the superior protection and a touch of distinct style and comfort, have been introduced by various brands in the market. This has resulted in a wide range of highly attractive sunglass models in the market, for the easy and convenient choice by individuals, according to their own specific needs and requirements.
The rising demand of customers in the market, and the increasing awareness of the importance of effective protection from the ultra violet rays of the sun, have resulted in the design of special sunglass models, which offer style and comfort both in one choice. Oakley is a brand of sunglasses in the industry, which offers a large portfolio of frames and sunglass lenses, for the use of their customer market.
Oakley Batwolf vs. Oakley Gascan Sunglasses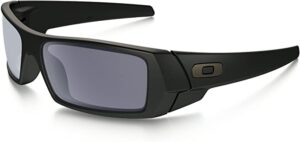 The Oakley Gascan is a sunglass model offered by the brand, which sports lenses which have been crafted from a single lens shield, and thus provide a smooth and contoured look, which serves as the distinct style of the Gascan. The frame is very comfortable, being manufactured from light weight O matter material, which offers the user with the convenience to easily sport a stylish and feather weight sunglass model, while outdoors.
The frame has been designed with a structurally integrated hinge mechanism, which also sports a dual cam action. The Plutonite lens material provides protection from blue and ultra violet light, and satisfies industry standards for optical clarity and impact resistance. The Gascans are also available with prescription lenses, for better visibility and added protection, while engaged in work in the great outdoors. SHOP OAKLEY GASCAN NOW.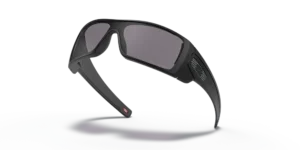 The Oakley Batwolf presents a unique and very trendy style, especially designed to appeal to a number of users who desire for a chic and amazing model, to compliment their personality and ensure effective protection. The Batwolf has a frame which exceeds industry standards, for providing highly effective resistance to exceedingly high levels of mass and volume. The frame has a superior durability quality, and the lightweight material feature, ensures easy wear for an extended period of time, while outdoors.
The frame has a wrap frame style and design geometry, which gives the sunglass model a very slim and elegant look. The symbolic logo of the brand is available in a choice of square O icons, for adding a new level of style to an everyday accessory.
Both the Gascan and the Batwolf, are preferred by individuals, who seek stylish models and also require effective protection features in the sunglasses of their choice. SHOP OAKLEY BATWOLF NOW.