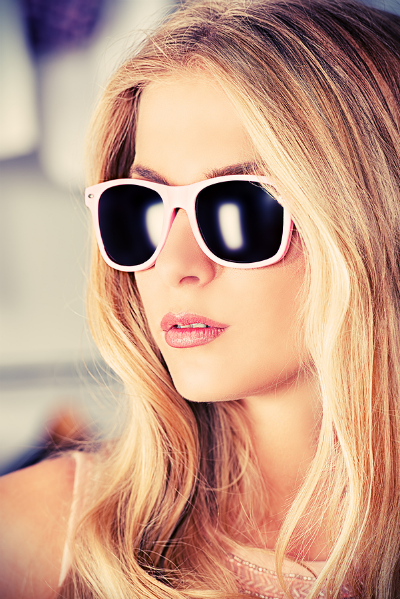 With sunglasses having been adopted as an important and vital accessory to compliment every fashion style and outfit, a wide variety of options have been introduced into the market to cater to the ever-growing need.
Sunglasses are available in a large selection of frame designs and color options which offer a choice to ardent fashion enthusiasts to select the pair which best matches their personality. As a style statement, sunglasses have served to establish a perpetual position for themselves both in the fashion industry and in the daily lives of people, marking them as an accessory which is chosen with careful deliberation.
Just like glasses, sunglasses are also chosen by individuals keeping in mind the shape of their face, along with the color of their eyes and hair. Though some individuals feel that sunglasses should complement the outfit that they wear, that is not necessarily the case. A pair of sunglasses carefully chosen to compliment the face shape and the color of the hair of an individual looks much better and is a more convenient option compared to choosing sunglasses to match an outfit.
While choosing sunglasses, it is advisable to select a design which brings out and presents a stylish look to the personality of an individual. Experts cite it as necessary to select a pair of glasses and sunglasses which compliment and flatter the hair, and bring out the rich hues adding to the overall charm of the person.
Being an essential fashion accessory and an effective outdoor eyewear, sunglasses should be chosen with a careful consideration of the available options thus making a selection which adds to the element of glamour and attraction. There are a few recognized and widely adopted set of rules to pick the right pair and design of sunglass frames, which pay tribute to the hair color and personality style of an individual.
Red headed individuals should preferably opt for green, wine and blue sunglass frame colors, to compliment the rich textures of their hair color with their stylish fashion accessory. Blond individuals can choose pastel pinks, silver, golden, pastel browns and even black colored sunglass frames to compliment and add to their personal style.
Brunettes can sport fascinating and attractive browns, along with purples and burgundy colored sunglass frames, which not only compliment the overall style of the individual, but also pay tribute to the hair color of the person.
Choosing the frame design and colors of sunglasses and regular glasses is a task which requires time and a distinct fashion sense. By opting for the ideal color of sunglasses which serve to present an attractive and pleasing overall image, fashion enthusiasts and style lovers tend to purchase an eyewear accessory which easily compliments every outfit, and makes them stand out from the crowd.
Making the right decision for buying a pair of sunglasses which compliment the hair color of an individual, is sure to present great opportunities for looking amazing and outstanding, in just about any and every outfit on all occasions.