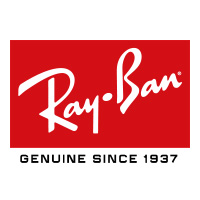 Everyone needs a pair of glasses to protect themselves from the scorching UV rays. But the days are gone when sunglasses were used only to protect the eyes. Now, sunglasses set a style statement along with effective protection. Ray Ban is one of the popular brands and it is considered as one of the designer sunglasses collection. The Aviator is the most adored sunglass among its entire range of products. Although it was designed long back, it is still considered one of the trendiest collections in the market. Its latest upgrades can give other brands a run for its money. One of the defining characteristics of its sunglasses is that all of its glasses are unisex. Their fluid design and strong metal-glass combination suit both men and women alike.
Less than about 5% of styles are actually either for men or women – this happens in sunglasses and eyewear as well. For the most part, Ray-Ban is a UNISEX brand, specially when it comes to the most popular models such as the Ray-Ban Aviators, Wayfarers and Clubmasters!
The polarized glasses collection provides additional features in terms of protection and style. They provide 100% UV deflection. This avoids any damage to the cornea and reduces chances of cataract. It is particularly helpful in the sunny days as the polarized glasses are known for their anti-glare properties. The level of protection either increases or decreases depending on the type of glass you choose. Fortunately, their unisex design allows both men and women enjoy the same type of design.
The comfort that you gain from a pair of designer sunglasses like Ray Ban is un-paralleled. Their clear vision with antiglare properties acts as an additional sense while driving or during some sportive activities. Polarized glasses have vertical filters that avoid horizontal rays like glare or direct light. Non polarized glasses only reduce the amount of light entering the eye, thus reducing the brightness of illuminated objects. They are particularly effective for people who are prone to skin related problems when overexposed to the sunlight.
Colored glasses alter the contrast of the view, creating a better picture out of what we see. Grey and smoke colored glasses reduce the light intensity and are thus are helpful when there is high sunlight. Amber and brown colors increase the contrast of the view and should be worn in dark places so that you can see things better. Yellow glasses also reduce visibility but provide a clear view and are thus preferred during cloudy conditions. Transitions lenses are 30% colored but increase their darkness to 80% when exposed to direct sunlight. Plastic or polycarbonate lenses also exhibit these properties.
The ray ban sunglasses are accompanied with industry standard frames often made from metals or alloys to increase the overall strength and look. Both men and women love them because of their precise design and material strength.