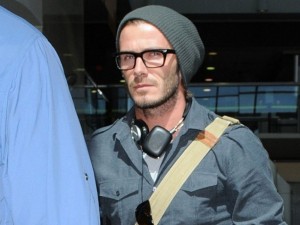 David Beckham is an outrageously popular man. Man love to emulate him and women just love him. And he sure seems to have it all, bucket loads of talent, looks to die for, a supportive family and the business acumen to turn himself into a much sought after brand. Really, how else can you explain the success of one who looks so pretty and er so intelligent? And he does too, with those thick rimmed glasses that he seems to have taken to.
In order to get Beckhams glasses style, for now, you'll want to go with a square frame! You will be amazed to know that those stylishly geeky glasses come from Ray Ban, a brand that's more sought after for its sunglasses, then any geeky eyewear. But this is where Beckham's intelligence comes into play. He sports Ray Ban's classic Wayfarers. Only, he's replaced the sunny shades with prescription lenses and retained the thick rims. Looks good huh? We told you the guy was smart! And he's innovative and original enough to build a style statement all by himself!
The original Ray Ban Wayfarers are iconic pairs, and are perhaps the most recognizable pair of sunglasses in the history of mankind. With the Ray Ban Wayfarer Classic RB2140, you can choose to do what David did, substituting with prescription lens, or wear them for the great pair of sunglasses they truly are. This style was apparently first developed for military use; hence the camouflage print that you see on its rims. It comes with brown lenses, providing you a clear, high-contrast view. Ray Ban's colors have always been solid. While the pair sported by Beckham is of tortoise color, this style comes in green, brown light and grey colors, and is also produced with a polarized version.
Another interesting style that Beckham sports is the Ray Ban RB3016 ClubMaster. These come with sleeker, riveted frames. Yet, replace the shades with prescription lenses and this is another pair that subscribes to the cool nerd look. The original pair also comes with funky blue and grey shades. As always, when you buy Ray Ban, you can rest assured of four things: comfort, clarity, style and protection. These two styles offer you all of these.
Click to Shop the Popular Ray-Ban Wayfarer Eyeglasses!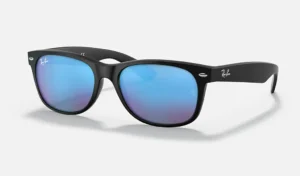 If you wish to wear the Ray Ban pairs Beckham style, you have a range of prescription lens that Ray Ban offers. Their lenses are customizable, as is the lens material, so you can choose the perfect lens that suit your lifestyle and needs.
And if you wish to emulate Beckham's eyewear style without resorting to Ray Ban, you can choose to go with the Dolce and Gabbana DG3108 Eyeglasses, with 501 Black color. They come with a slightly large eye size of 53mm but retain the chic geek look that Beckham so stylishly sports. Over to you to pick your eyewear style!