Costa Del Mar Corbina review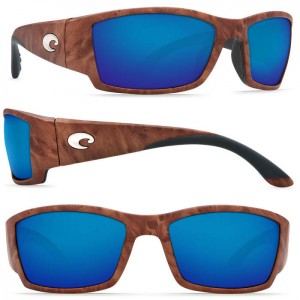 First up, we'll let you know that if you're choosing to wear a Costa Del Mar Corbina for an intense sporting activity like surfing or sailing, then you've chosen well. This is a brand that has built its reputation as a leading manufacturer of sunglasses, exclusively meant for all things sporty!
The Corbina style from Costa Del Mar comes in a wide range of lens and frame combinations. There are 10 unique color designs that support this style, an assortment that is sure to entice the curious sunglass shopper. They are large sized frames that will suit medium to larger faces and provide a comfortable fit.
Costa Del Mar shades are always a winner in water sports. Their insides come with a rubber coating so the frames seal your face and protect you from the harsh glares of the sun. In addition, they provide wide coverage and excellent contrast required for sports.
Costa Del Mar obviously believes in providing their consumers with great optical quality, a must-have for water sports. The Costa Del Mar Corbina style comes backed with top dollar lenses. Their durable quality keeps you great company during your fishing stints through the years. They're a tad heavier than other sporty frames but they more than make up for it with great fits, fits that are so seamlessly comfortable that they almost make you forget that you're wearing sunglasses! A facet that's made them so comfortable to wear is their no-slip Hydrolite construction, a virtue that's bound to keep them securely perched on your nose.
The default packaging comes with a Costa Del Mar hard case, perfect to carry for your water sports. However, one grouse is that they lack a cleaning cloth in the original packaging. So if you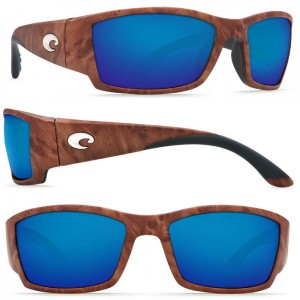 get water on them during your sport, you're left resorting to your t-shirt to clean them up! However, you do have cause for celebration. Their glass lenses are incredibly easy to clean, scratch-resistant and provide very clear vision. These plastic lenses also do not attract dirt easily so you can breathe easy that you will not need to turn your tee into a cleaning cloth all that often!
The Costa Del Mar Corbina also comes with a silver-mirrored finish, backed by polaroid lenses. Whoa! Are these stylish or what!! Rest assured that when you sport these cheeky frames on your nose, you have the sporty look down pat.
Costa Del Mar is a brand headquartered in Florida, a land of sun, beaches and plenty of sport. This is reflected in their eyewear as they unashamedly cater to sports and water junkies. If you are the water baby looking for the perfect fitting sunglasses, the Costa Del Mar Corbina is for you.