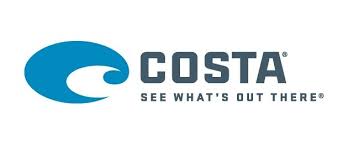 Costa Del Mar is undoubtedly one of the finest manufacturers of glasses which are primarily used for all types of underwater activities and fishing.  Their anti-glare feature is the best in their class and is considered to be the sole reason for the company's grand success.
Costa Del Mar has two structural varieties- plastic and glass. Both the varieties have their own benefits and features. So, let us have a detailed look on these aspects. Glass is normally chosen as it is scratch resistant and has the greatest clarity. For instance, their Costa LightWAVE variety is even thinner and lighter than the most of the average polarized glasses. Under the category of glass, we have variants like 400G and 580G. Both the mentioned varieties provide 100% UV blockage and give maximum protection. The polarization technology helps in killing the reflected glare and at the same time helps in reducing eye strain. All these add up to provide a superior clarity. The 580G uses a patented technology which helps enhancing the colors by blocking the yellow light. It also eliminates the blur and haze by simply blocking the blue light.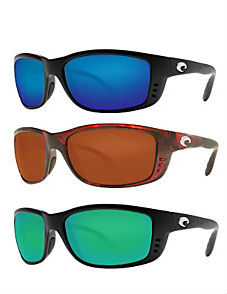 Next in the category is the plastic which is normally preferred over glasses for being light weight and thus gives added comfort. It is very durable and is also impact resistant. Like the glass variant, the plastic variant of Costa Del Mar also has the 400 and 580 variant but suffixed with P, which stands for plastic.
The 400P variant of Costa Del Mar is a complete UV blocker and thus provides maximum protection. It is 100% polarized and thus gives superior clarity. The 580P variant comes with the mentioned features and qualities with extra layer of protection which repels oil, water, scratches and dust. Like the former, its technology is also patented which is used for blocking the blue and yellow light and thus gives better color and clarity. Like the 400P, the 580P is also equipped with UV protection and full polarization but at the same time it has the patented technology like its glass counterpart and exactly like that, it also blocks the yellow light and enhances the colors. Blur and haze is filtered giving the person a fully-fledged and clear view of the object.
Costa Del Mar with the above mentioned variants has undoubtedly been the numero-uno when it comes to adventure glasses and as their pace of growth reveals, they surely have many more to come in the near future.