There are some people who look at the materials the accessories are crafted out of. With sunglasses, these people will look at the frames more than they will look at the lenses. After all, you can get the lenses changed or opt for different kinds later on.
The aviator line by Carrera has thicker plastic frames that we see on navigator plastic frames as well. They may not be bulky though many people may mistake these to be. They are in truth substantially crafted. Here are some of the quaint and unique looking sunglasses by Carrera.
The Vintage 80s
These are the sunglasses that you will find to be gorgeously appealing to the onlooker with their Vintage Porsche design. They come with silver and gold frames. The lenses come in plenty of different tints; ones that you probably will have difficulty finding anywhere else. Before you look into any other Carrera accessories, check the Vintage Aviators out.
Carrera Champion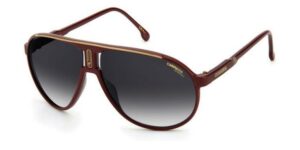 The frame of these sunglasses is wider than what most people are used to wearing Aviator type sunglasses. You can order extra lenses with these too and make life easier. The shades are all about functionality, so if you want protection from UV and UVB, and the Carrera Champion fits your personal style, then do not hesitate to get these.
Carrera Hot Aviators
The Hot Aviators are available in 20 different colors from everything between muted tones to dramatic ones. You might want to try with the palladium and black frames. However, these are pretty large and not meant for the dainty of the face; they totally over take on a small face. If you have one of those face shapes and do not want all of your face covered with sunglasses, then you may want to check out the other sunglasses designs in their range. They only come in one size.
Carrera Hots
Yes they came up with a variation as well. These are a lot like the Hot Aviators with a slight deviation in the frames of the sunglasses. The design at the bridge of the frames is different as well as their color. This one comes in white and gives you the option to switch from dark aviators if you want.
The Carrera Gun/Metal Aviators
These are the kind of sunglasses that the brand itself has been parading around as those for the younger generation. The blue sunglasses and the metal frame are sleek. The pair is very much durable and the UV protection lenses are all about protecting your sensitive eyes.
There is something that each one us is looking for in sunglasses. If you want the best quality along with optimal protection from UV rays, then go for Carrera Sunglasses Aviator as they will best cater to your needs.