The trends in sunglasses keep changing. So many styles come and go every year. Be it oval, round, square or oversized. But one classic style that has stood the test of time is the aviator style, which has never gone and will never go out of fashion. Season after season the aviators are included in the eyewear trend with a little modification. When it comes to modern style together with sporty look nothing can beat Aviators. The best part is that it can be worn by both men and women and it looks classy on everyone. Even a simple look can be enhanced just by wearing them. Just flaunt your aviators and you look nothing less than a style icon.
Aviators have the teardrop shape that comes with many variations. They generally have metal frames and polycarbonate lenses although there are glass versions (the ever popular Ray-Ban 3025 is all glass,) also available.
Ray-Ban the Leader!!!
When we talk about aviators we immediately think of Ray -Ban. The name Ray-Ban is synonymous with aviators and why not they were the first one to invent it. The aviators were developed initially for the pilots to protect their eyes while flying. But they became an instant hit with the common man also. Aviators gained popularity after the celebrities like Michael Jackson, Paul McCartney and Ringo Starr started wearing them. But there has been no looking back for Ray-Ban after Tom Cruise wore them in the movie "Top Gun". Today Ray-Ban is the connoisseur of the aviator style of sunglasses.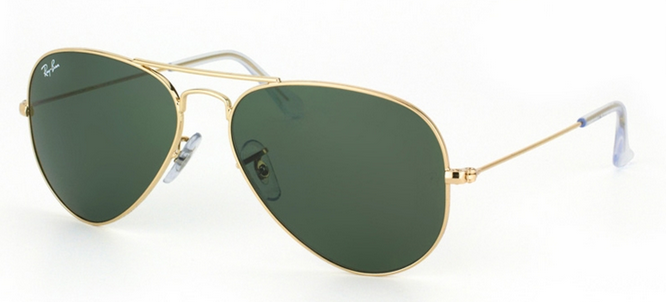 (Click above to shop RAY-BAN 3025)
Though the aviators from Ray- Ban still have their charismatic and timeless appeal, they have undergone various changes since they were invented. They are now available in mirror, flash and gradient glasses. Also you can find full colored glasses and frames. So now there is something for everyone.
Other brands
There are other high end sunglass companies who have their own versions of Aviator sunglasses. Maui Jim, Polo, Carrera and Serengeti are the sunglasses companies who make aviators. There are other fashion brands like Christian Dior, Gucci, Dolce and Gabbana, Burberry and Tom ford who have also developed their own line of aviator sunglasses.
It is mainly a personal preference of the buyer. Mainly people go for the brand name and like buying aviators from these brands.
However when one wants to own aviators, it is always better to stick to the leader. After all Ray-Ban has been the undisputed leader in this segment and one can expect nothing but the best from them in terms of designs and quality. So one should buy the best as these are assets for lifetime.