Hello, my name is Tara and I am an addict.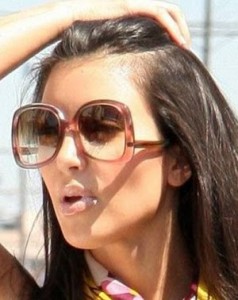 Obviously I'm addicted to sunglasses. I work and write for ShadesDaddy.com, how can I not be? How about you? If you're reading this, chances are you are too. Maybe you're not addicted, but I can bet anything that you love a good pair of sunglasses that looks really good on you. Makes you feel good.
Kim Kardashian is ADDICTED to sunglasses. If you follow Kim Kardashian in the tabloids, see her pictures online, you will always see her wearing sunglasses, almost always, at least. Kim told Conactmusic.com, "My guiltiest fashion pleasure is sunglasses. They're the best accessory for any outfit." THEY'RE THE BEST ACCESSORY FOR ANY OUTFIT! True or true? What better accessory to go with an outfit?
What are Kims favorite sunglass designers?
-DITA
-TOM FORD
-BALENCIAGA
Kim says her style / fashion is her way of communicating her personality. I feel the same and I know many people feel that way. We love fashion not only to look cool or good for ourselves, but as a way of communication. We are trying to let people know a little bit about us by the way we dress. What we choose to put on and how.
Currently, I rock a pair of Ray-Ban Wayfarers RB2140 902 in a 50mm, a pair of FlatTops Super Sunglasses and I have a pair of Carrera Daytonas in gold. No matter where I go, I always have a pair of sunglasses on me!
See the Kim Kardashian Sunglasses post we wrote a few weeks back.