A question we always receive here at Shades Daddy is, "What sunglasses are the best for fishing?" If you've ever been fishing you would know that the sun is your worst enemy while out on the water. If you plan to go fishing, you have to have a pair of polarized sunglasses.
Bass Pro Shops states plain and simple that fishing with polarized sunglasses will catch you more fish.
Few people realize the full benefits of wearing polarized sunglasses. Not only will glare be reduced, but you'll have guaranteed eye protection – from the sun, water, and lures and hooks that are flying around the boat.
Oakleys are a great place to start for polarizes sunglasses. Oakley has positioned itself as a master when it comes to the outdoors. And many professional fishers prefer this brand above the rest. Why has Oakley become so popular? Simply due to the fact that they know what it takes to make an awesome pair of sunglasses. The bold line of sunglasses has seen itself on the faces of many professional fishermen like, Kevin VanDam.
Kevin VanDam has made a name for himself in the fishing industry and has won many awards as a professional bass fisherman. The sunglass that Mr. VanDam uses while he is out there toughing the elements is the Oakley Polarized Half-Jacket model. Not only are these frames sleek, but will have you looking like a champion when you're battling fish.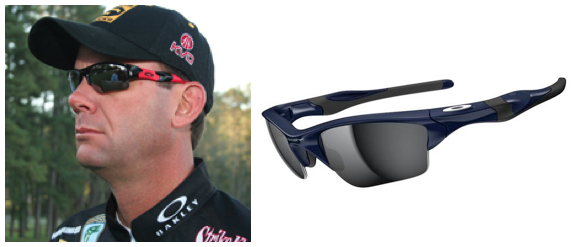 Optimized peripheral vision and side protection
Optical precision and impact resistance
UV protection of Plutonite® lens material that filters out 100% of UVA/ UVB/ UVC & harmful blue light up to 400nm
Glare reduction and tuned light transmission
Durability and all-day comfort of lightweight, stress-resistant frames
Another fantastic brand to look at for polarized sunglasses for fishing is
Costa Del Mar
. If the words "outdoors" and "on the water" mean the same thing to you, then you need to get a pair of Costa Del Mar polarized sunglasses. They have polarized lenses and are lightweight and made for harsh sun environments. Costa del Mar uses three lens materials: glass, CR-39, and polycarbonate. All of them are
100% polarized and have 100% protection from UVA, UVB, and UVC rays.

How Do Polarized Lenses Work?
Glare from the water (ocean, lake, river, etc.) is caused when light from the sun is reflected off the surface of the water. An intense glare is emitted from the surface ultimately making vision very difficult and uncomfortable. Polarized lenses work by blocking out the light that is being reflected off the surface of the water. By taking away the glare from these light waves, we have clear vision through the polarized lenses.
What are the Benefits to Fishing?
There are two main benefits polarized lenses bring to the fishing experience:
Eliminate Glare – When glare is eliminated, anglers are able to see through the surface of the water to spot fish that are swimming below; point out structures like reefs, wrecks and vegetation; pinpoint depth changes or drops
Eye Protection – Polarized lenses act like sunscreen for the skin; polarized lenses are built to block UV rays from passing through the lens. In this way, your eyes are protected from any harmful or cancerous rays to penetrate your pupils