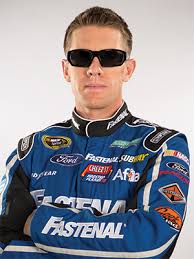 While watching the interview of the NASCAR drivers, the most common question that comes up in any fashionista's mind is – what sunglasses do these drivers wear?
Especially when it's Carl Edwards who looks super hot with his smart pair of sunglasses, it's an obvious question that arises.
Well, Carl Edwards relies on none other than Wiley X sunglasses for the tracks as well as for his daily use. He uses the Absolute Premium Protection and crystal clear vision provided by Wiley X eyewear when he hits the track. Wiley is a world leader in research, development and marketing of protective eyewear for tactical and civil applications.


SHOP WILEY-X SUNGLASSES BELOW:
Not only Carl Edwards but other members of his team also prefer Wiley's sunglasses as they rely on its crystal-clear vision and high-velocity protection on and off the track. Following features makes it's the preferred choice of many drivers.
Wiley X sunglasses have set the bench mark for safety, style and utility. All the eyewear products meet the stringent ANSI Z87.1 High Velocity and High Mass Impact Safety standards, as well as EN.166 Standards and provide OSHA-grade protection for all active wearers. In fact Wiley is the only premium brand which provides this level of protection in sunglasses.




It makes worlds most durable and light weight eyewear. They are made from shatterproof "Selentine "polycarbonate lenses. The "T-shell" Hardcoat technology makes them scratch resistant and the "Triloid" nylon frames are virtually indestructible.




The sunglasses are appropriate for a wide range of activities — like on the job, participating in outdoor sports like shooting, fishing, boating, motorcycling, racing, skiing, snowboarding or driving on the open road.




It is the leading provider of protective eyewear systems to U.S. military, law enforcement and other tactical wearers all over the world.
The performance eyewear is not only snug and comfortable but also very stylish. The employees can not only carry them on the job for safety purposes but also off the job as they look very cool at the same time.




For people with prescription vision, they don't have to compromise any more. Wiley X sun wear model is Rx-ready which makes their life easy as they get style and protection at the same time. Wiley X's new DIGIFORCE™ digital Rx lens technology provides superior prescription accuracy, clarity and widest possible field of vision.



In fact the relationship between Wiley X and Carl Edwards goes a long way. Wiley X sponsors NASCARS drivers and Carl Edwards has been one of their favorite drivers. Carl Edwards has been chosen to be sponsored not only for his racing skills and accomplishments but also because he has the ability to serve as the brand ambassador of Wiley X.