Woody Allen, like many other celebrities, favors the intellectual, nerdy look and he wears black framed, square glasses. His preferred brand that gives him his extremely distinctive look is the Lemtosh by Moscot. This is the same model worn by celebrities like Johnny Depp and Truman Capote and is favored by many other intellectually inclined and thoughtful artistes. In fact the Lemtosh is commonly referred to as the calling card of free-spirited intellectuals.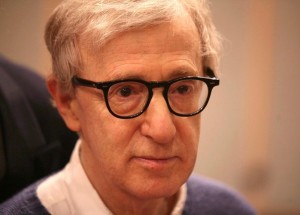 Moscot is a hundred year old brand; they had opened their first shop way back in 1915. The shop was opened by Hyman Moscot who had already established a vast and faithful client base while selling glasses from a pushcart in Manhattan's Lower East Side on Orchard Street. This family run business, currently being run by the 5th generation of the Moscot family, has grown tremendously in the recent years and is now gaining huge popularity among online customers as well. This is in addition to several stores they have. They have maintained many of their original lines. As the current president once said, they don't believe in being hip and if you want the latest trends, Moscot is not for you. Moscot is for those who prefer the tried and trusted traditional models. Most of their designs are either named after family members or based on Yiddish words. Lemtosh is from their Moscot Originals range of designs. Moscot Originals are designs that were conceived between the 1930's and 1970's. The square framed glasses are slightly rounded around the edges. The frames are made out of acetate and have a key hole bridge. They come in several different colors including emerald and sapphire. Woody Allen's preferred colour is black.
The glasses have diamond rivets in the front and temples which result in the distinguished look. The glasses also feature CR-39 lens. These lenses give 100% protection from UVA and UVB rays. The weight of the frames is average. The Moscot lines are also rated for boldness of style on a rating scale of 1 to 5 with 1 denoting a whisper and 5 a scream; The Lemtosh is rated 4 on this scale.
So if it is the Woody Allen nerdy, creative intellectual look that appeals to you, then head to their website and have a pair of Lemtosh delivered to you right away. And you could easily order one in Black or Matte Black for the serious look and one in Emerald or Sapphire when you want to look cool. Whichever one you choose you are sure to love it!