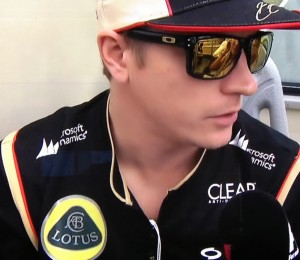 The Ferrari Formula 1 racer has a million fans all over the world. Apart from his awesome racing skills, he is also known to be quite a dapper dresser. Apart from the stylish but not-too-formal style that he sports, he is known to be quite attached to his sunglasses. He was once asked why he was so fond of this accessory. He responded by saying that he has sensitive eyes and perhaps there are time he doesn't want people looking him right in the eye! Nevertheless, he has quite a good collection of sunglasses in his dressing closet.
Being the brand ambassador of Oakley, it comes as no surprise he sports their sunglasses on most occasions. There are 2 pairs of sunglasses that he worn quite often. The first one is the Oakley Holbrook Retro pair. They are called retro because of their large lenses and the old fashioned, thick and bold frames. Mostly square in shape, these lenses are highly polarized (anti-glare) with UV protection and Iridium ® lens coating, should you wish to add these extra features to your sunglasses. Being a professional racer, Kimi must pay attention to even the minutest detail and that reflects in his choice of sunglasses too. They act as a very stylish accessory, perfectly suiting his good-looking, slightly serious face, while also providing his eyes ample relief from sunlight, thus improving his vision. The retro frame is called a "timeless" beauty that really has not gone out of fashion even after so many years and which compliment even a modern style icon like Kimi. The lenses are quite large and are more feasible to be worn for sport and other outdoor events. Kimi has worn a couple of pairs, one tinted slightly gold and the other black, in this style.
Oakley Holbrook:
The other Oakley pair that Kimi owns is the Dispatch II polish clear model that is customized to suit Kimi and has black lenses. This pair has slightly rounder lenses and a little smaller than the Holbrook pair and come in a variety of shades but of which Kimi prefers the black one. These also have Iridium ® lens coating and have UV protection and can be worn for outdoor and stylish events. Kimi has also worn this brand's Shaun White Signature Series glasses quite often. This bold pair has large, tinted glasses and the frame is quite thick. It resembles a pair that many skiers wear and is very popular with the outdoor lovers loyal to Oakley.
Oakley Dispatch II:
For about a year, Kimi was the brand ambassador of a very popular company known more for its watches than sunglasses. During that period, he sported a pair of sunglasses with 24 carat gold iridium plated sunglasses for a while too. All in all, Kimi likes mixing style with utility. All his pairs are usually customized to quit his sensitive eyes and he prefers large lenses to cover most of his upper face to provide ample sun, wind and dust protection.