The maxi dress is a must have item in everyone's wardrobe, it's a go to item when you have no idea what to wear and the great thing is that they are so comfortable. Well it should be no surprise that the maxi skirt has made its way into one of the latest trends.
Don't think that the skirts are bohemian looking; these skirts have a more shapely silhouette. The great thing about these skirts is that you can pair them with any top whether you're going for a laid back look or for an outfit which is a bit more formal.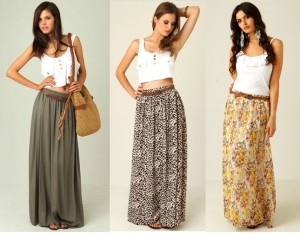 Don't start being negative about this trend and automatically think that you are too short or curvy for these look. Follow these simple tips to pull off the look flawlessly:
•Define the waistline: because there is so much fabric the skirt will hide your figure, so use belts to define your waistline or wear a fitted top. This will emphasize the slimmest part of your body.
•Proportion is key: this is the most important tip for those of you who are shorter. Don't wear a big top with this trend. This will only make you look smaller and a few pounds heavier. We aren't all stick figures that can pull this off.
•Don't be shy; show some skin: your bottom half is already covered up, so pair the skirt with shirts that have a low neckline or lace. Don't go overboard with showing some skin though, we don't want it to look tacky.
•Shoes: just pick your favorite pair! You can wear any type of shoes with this trend, which is another perk.
•Length: this is another thing you have to get right; the skirt should brush the top of your shoes. This way you show your shoes off and you don't look shorter
Even though this stared off as a summer trend it will transition into a fall trend. Just change up the accessories, go for chunkier ones, one tends to go lighter with summer accessories. Throw a blazer and closed toe shoes and your ready for fall in a maxi dress