Do you want your style quotient to catch fire like that of Jennifer Lawrence in The Hunger Games? This chica has some of the best style around Hollywood, and she doesn't need Lenny Kravitz to design it for her. This apple cheeked maiden of the silver screen can pull off any outfit from a simple white dress, to a black jumpsuit that's actually on fire! She even pulled off Mystique's blue skin in X-Men: First Class. If you can imagine an actress who is so versatile that she can play a sex addict (Silver Linings Playbook) or the girl next door to a haunted a house (The House at the End of the Street) then you have imagined only a little bit of Jennifer Lawrence.
Jennifer Lawrence might be such a fashionista because of her early life in a town of debutantes and Southern belles — Louisville, Kentucky. Her first acting jobs were on the small community stages in the local theater circuit, but she quickly realized her potential and persuaded her parents to take her to New York so she could hook a talent agent. It worked! Widely praised for her performance as Katniss Everdeen in The Hunger Games, Jennifer Lawrence will never be out of work in Hollywood unless she chooses to be.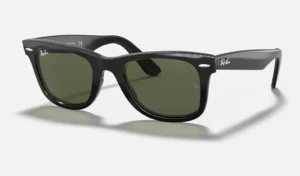 Regardless of your personal look, who wouldn't want to be able to pull off Ray-Ban Wayfarers as well as she does? These frames rest comfortably on her face, drawing attention away from her small pointed chin, up to her eyes and fabulous cheekbones. Wayfarers have always been popular, but pairing solid black frames with a little white dress? We say yes! (Well, maybe "Yes, ma'am." She is from the South after all!)
Her simple Ray-Bans are the perfect accessory for this little white dress. You notice how she isn't wearing any other jewelry or accessories? That's because this outfit radiates beautiful simplicity, and adding bangles or patterned tights would make it too complicated to work. It's great how she sticks with three neutral colors; black, white, and beige. Because of the three neutrals together, she doesn't blend in the wall (as if she ever could).
Wearing her hair as long, loose, out of control waves, cool, collected sunglasses, a beautiful white dress, and snappy metallic beige heels, what's not to like about this outfit, perhaps besides the fact that you're not wearing it yet? Ray-Ban Wayfarers will never be out of style as long as starlets like Jennifer Lawrence keep wearing them. They're the perfect accessory when you live in a sunny area, and they're practical too, offering unparalleled protection for your eyes without giving up great looks. So next time you want to fire up a simple outfit, put on some Wayfarers and watch your style quotient catch fire, just like Jennifer Lawrence's!