How Do Sunglasses Block UV Rays?
The color and degree of darkness provided by sunglasses have nothing to do with how well they block dangerous UV rays. Lenses are treated with a clear coating that blocks UV rays, and even standard prescription eyeglasses with no tinting use lenses that have been coated to block UV.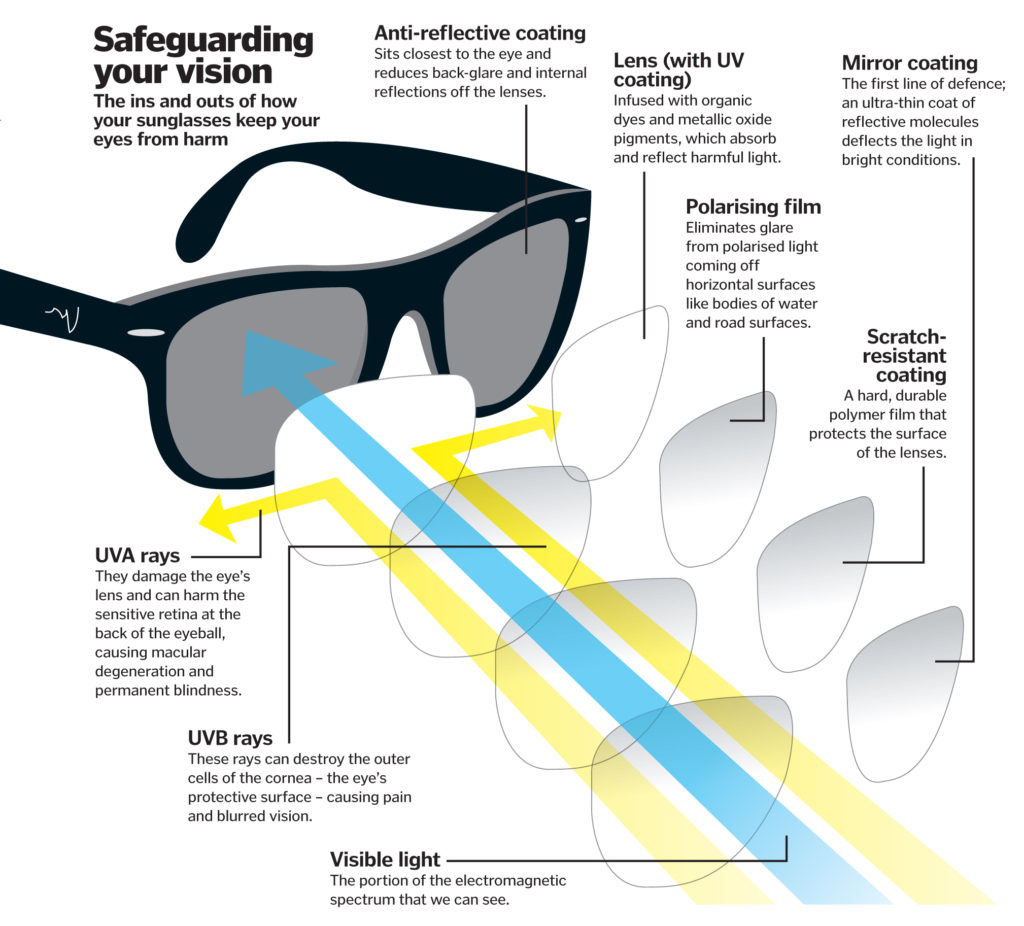 Only choose sunglasses that specify that they block 99-100% of UVA and UVB rays. If sunglasses are labeled as having "UV 400" protection, they offer good UV protection down to the shortest wavelength UV rays. Since UV radiation can damage your eyelids, corneas, lenses, and other parts of the eye, it's essential that you choose sunglasses that block ultraviolet rays.
How Do Polarized Lenses Work?
When light is reflected off a surface like water, snow, or glass, the light waves "polarize,". This means they tend to orient themselves horizontally, producing harsh glare and causing eye strain. Polarized lenses reduce the brightness of the glare without making the field of vision dimmer.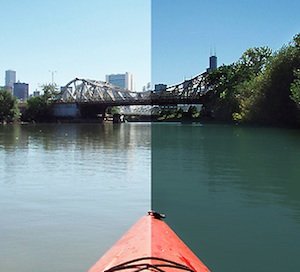 How Are Polarized Lenses Made?
Polarized lenses are made from thin, clear films. The film is heated and stretched, causing the long molecules that make up the film to align. The film is then dipped in an iodine solution, creating a long parallel, darkened lines that are invisible to the unaided eye. Then the film is dyed to the desired color. For placement on lenses for polarization, the film is oriented to block horizontal glare and mounted on a sheet of another substance called CAB. Usually, the polarizing film is laminated between two pieces of the lens material.
Who Should Choose Polarized Sunglasses?
Polarized sunglasses work best when the sun is neither directly overhead nor on the horizon. Anyone who deals with reflective glare should consider polarized lenses. They're great for lifeguards, boaters, and water skiers. Basically, anyone who is surrounded by horizontal surfaces that produce glare, like car hoods and roads. Long distance drivers, people who play sports, and fishermen benefit from polarized lenses.
Bear in mind, that many types of electronic screens, like those on ATMs, are covered with polarizing film. When you look at these surfaces through polarized sunglasses, they will be hard to read.
Polarized Sunglasses Aren't Strictly Business
Polarized lenses are used in numerous styles, including up-to-the-minute trendy designs. The Ray-Ban RB2140 Wayfarer sunglasses are a perfect example. The dark tortoise frames and polarized brown lenses, they'll look just as great with your best work suit as well as jeans and a t-shirt.
For men, the Ray-Ban RB4165 Justin sunglasses with a grey gradient polarized lenses is a terrific all-around pair of shades. They're a slightly more cutting-edge take on the classic Wayfarer. Plus they will work with any style. And if you're going to be on the water, they're unbeatable for cutting down on glare without distorting colors.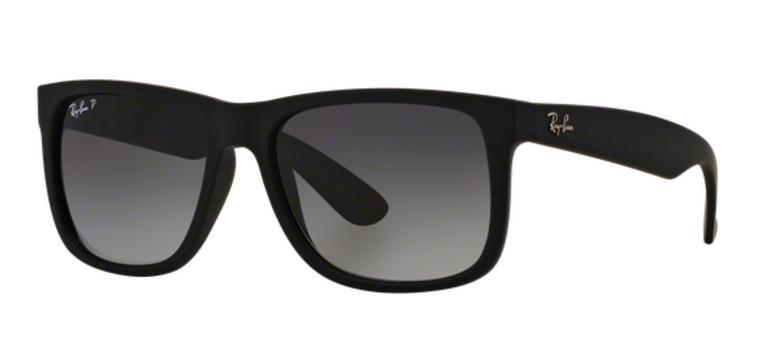 While UV protection is absolutely necessary in your sunglasses in order to protect your eyes and the skin around them, polarized lenses are optional. Many people find that polarized lenses reduce eye strain, particularly if they spend extended amounts of time in glare-prone environments. Fortunately, many top designers incorporate polarized lenses into their great styles, so you don't have to give up a great look to benefit from polarized sunglasses.