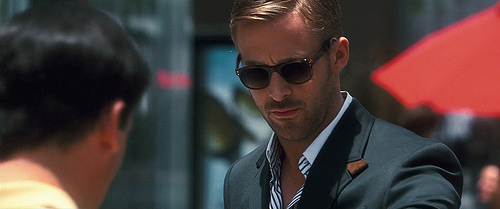 Sunglasses have evolved from being mere sun cheaters in the past to a fashion statement. Though initially it was to protect one's eyes from the sun, the quick realization that it can be used as a representation of our style have revolutionized the concept of wearing sunglasses, naturally with the help of our celebrities. When we decide to buy a pair of sunglasses we need to identify a variety of factors that need to be analyzed. We humans differ from each other in physical features. What is suitable to one may not necessarily suit the other. Some of us have high raised cheekbones while others have a long forehead. Some of us have an oval face while others have a square face. Hence, it might be a tough decision to buy a pair of sunglasses that go well with our face cut but we can draw inspiration from people we admire.
Ryan Gosling is an actor who has acted in various movies and television shows. He is known for his good looks and a great sense of dressing. We cannot forget the performance of Ryan Gosling in the movie Crazy stupid love. His looks are enough for women to go weak at the knees and what makes this movie special is the way Ryan dresses up to correlate with the character of a womanizer. In the movie, what stands out is the scene between Ryan and Steve Carrel, where Ryan wears those amazing looking Selima Optique Chad sunglasses. What can better compliment the dark blazer, striped shirt, classy watch with brown leather straps than that auburn colored tortoise frame with brown gradient lenses and those stylish looking two dots on either side of the lens.
The entire appearance of Ryan which is stylish as hell develops a suave quality with those sunglasses. Though there are other scenes in the movie where one can go gaga about Ryan Gosling, it is the still from the scene where he wears the sunglasses that made it to the posters before the release. These sunglasses became so popular that it was sold out completely soon after the release of the movie. Ryan gosling did give a higher meaning to his character in the movie and took the art of dressing to a different level. It is no wonder why many consider him to be one of the sexiest men in Hollywood. The already sexy and debonair Ryan's image with the really classy yet sexy pair of sunglasses is doing the rounds in the online circuit. In order to take a leaf out of this, it is vibrant that the right accessories, such as sunglasses, can hoist even a star to super stardom.