If you're looking for Ray-Ban Pilot sunglasses, you are looking for Ray-Ban Aviators. Ray-Ban has different styles of Aviators and one of the most popular of those is the Ray-Ban RB3030 Outdoorsman and of course, the classic RB3025, which is the mother of all Aviators!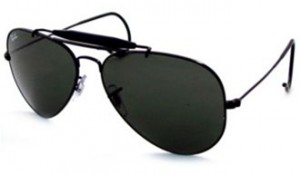 Bauch & Laumb started what today has become the Ray-Ban Aviators, in many styles. Let's take a look at the RB3030 which is a Aviator that is used for both style / fashion and also a frame pilots actually love to wear as well.
With the sweat bar on top, these have a real awesome look and feel to them. They are currently not available with polarized lenses both are available in both Black and Gold frames. Both the RB3030 L9500 and RB3030 L0216 come with green (G15-XLT) lenses.
Another favorite of the pilots are the classic RB3025 Ray-Ban Aviators. These of course are the ones you can see Tom Cruise wearing in Top Gun although those aren't Ray-Ban (Same exact model almost) and in so many other movies. These Aviators almost define the epitome of style and coolness though the Ray-Ban Wayfarers have now and maybe even in the past taken that title.
Ray-Ban is currently releasing more of the RB3025 Aviators with polarized lenses! See the different styles of ray-ban aviators.