We have been waiting for these frames to come for a long-long-long time. Have you seen these yet? Ray-Ban folding Wayfarers with chromed mirror lenses. These are different from any of the type of folding Wayfarers you've seen out there as both these new colors not only have chromed mirrored lenses but also matte colors to the frame which makes it THAT MUCH COOLER.
Below, you'll see a video reviewing these new amazing shades, the RB4105 6020/17 and RB4105 6019/69.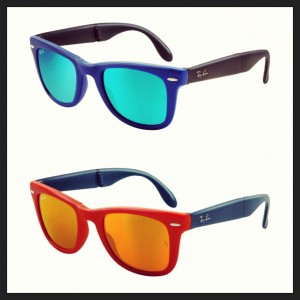 These frames are manufactured in Italy by Ray-Ban and come in two different sizes, 50mm (small/medium) and 54mm (medium/large.)
The Ray-Ban® RB4105 Folding Wayfarer® sunglasses are an authentic icon of unconventional spirit, reinterpreted into new functional sunglasses. Ray-Ban Folding Wayfarer sunglasses have all the same iconic lines as the original, but has been constructed into a compact, folding style. The Ray-Ban RB4105 sunglasses are practical, portable, and always in style. Available in polarized lenses and looks great on all faces.