Do you love yellow lenses on sunglasses? We do! There's something very awesome about shades with yellow lenses. Ray-Ban has the AMBERMATIC series which is a collection of AVIATORS which look so cool it's hard to resist getting one – looks like a must if you love sunglasses and like to keep a rotation.
HOW AMBERMATIC WORKS:
Ambermatic lenses adjust to light and weather conditions by transitioning from yellow to brown. The lens technology not only blocks glare but also improves contrast and sharpens details. Now you want a pair, huh?
SUNGLASSES FROM THE AMBERMATIC COLLECTION:
Ray-Ban Outdoorsman Aviator II RB3407 003/4A Rainbow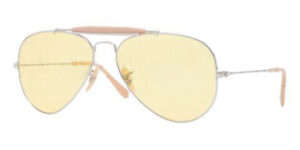 An icon since the late 1930s, the new RB-3407 features the classic style in strong new colors and with a reinforced bridge. The options range from lenses, bridge and tips in orange, red, purple, pale green, blue and black, to others with light grey or smoke lenses, which contrast with a pearl or white bridge.
Ray-Ban Shooter Aviator Sunglasses RB3138 001/4A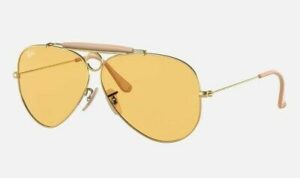 An icon classic that still remains a classic today. While these do not have the wrap around templesF that most seek in the Ray-Ban Aviators RB3030, it's got a nice sleek look with a cross-bar and circle on the bridge.