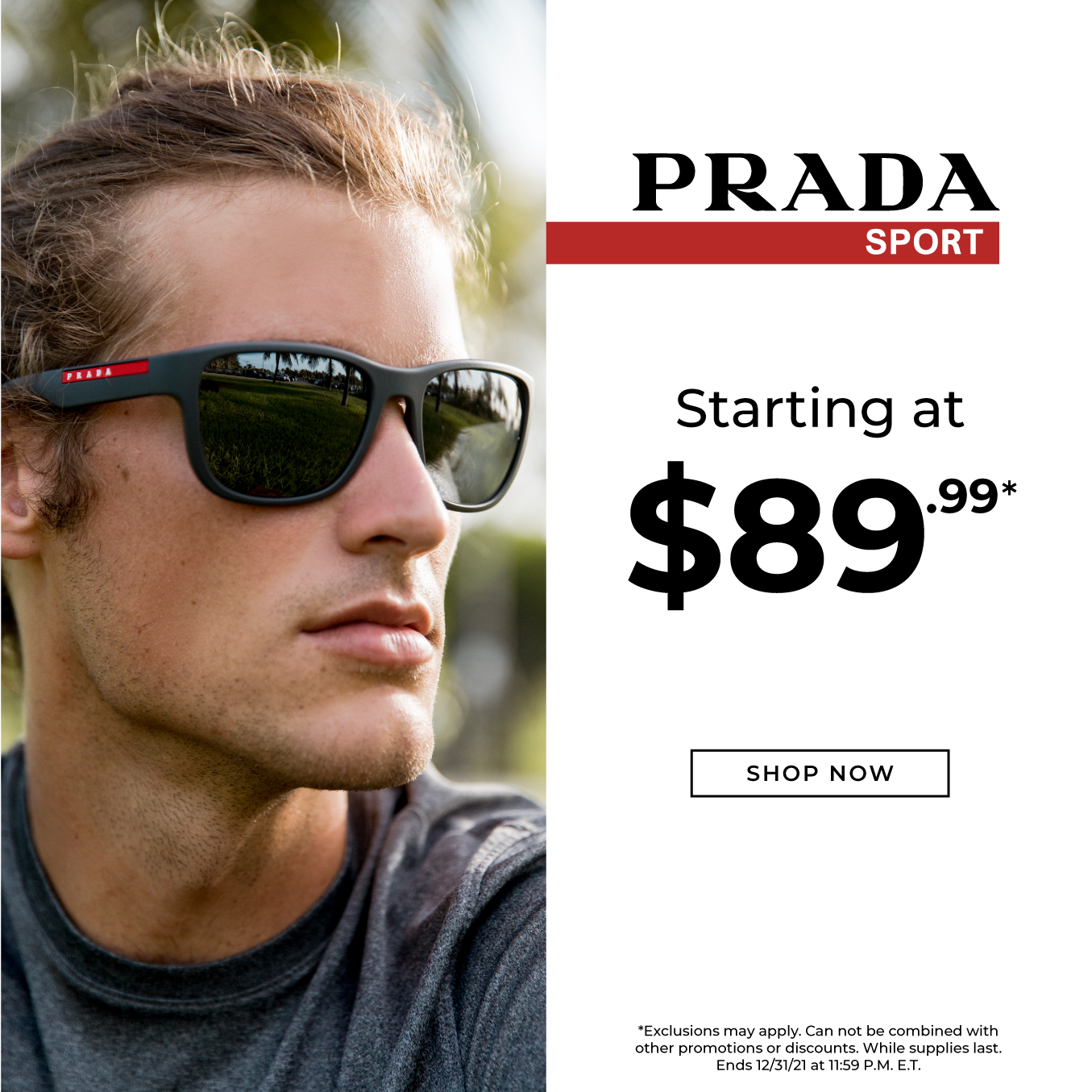 Just in time for Black Friday, ShadesDaddy.com is excited to announce we're slashing prices with our Prada Sport sale for the holidays. With prices starting at a super low cost of $89.99, you'll be riding in style come holiday season. There has never been a better time to buy Prada Sport. If you're looking for a great gift for your loved one, you will want to check out ShadesDaddy's collection of Prada Sport eyewear.
With ShadesDaddy, you know you will be getting quality bang for your buck. We have taken our entire Prada Sport line and shared it with our customers at affordable pricing. Whether you're looking to buy for yourself or surprise a loved one for the holidays this year, shopping at our Prada Sport sale for the holidays is a solid bet.
Just as their clothing line defines status and imperial design, Prada Sport eyewear is every bit as exquisite and divine. Known for its unparalleled craftsmanship and artistic style, Prada Sport is a global leader in high-quality casual sunglasses and eyeglasses.
Pushing the envelope has always been the pride of Prada and Prada Sport, and their eyewear line is no different. Featuring a large collection of sunglasses and optical solutions, Prada Sport eyewear features the next level of sporty aesthetics with a modern edge.
The Prada Sport sunglasses were originally developed by Prada to give the active, sporty community a heightened fashion sense they can wear during their activities.
Whether it's at the beach or the pool, during outdoor activities or the ski slopes, Prada Sport has put its stamp on active fashion lifestyle with the classic Prada Sport touch.
Prada Sport creates top-notch eyewear with a sporty, athletic cut. The brand proves that being active and sporty doesn't have to compromise your fashion style.
Prada Linea Rossa Eyewear Collection
The Prada Linea Rossa collection is a line that brings together great looks with technology. This technically advanced line merges the highly functional with comfort as a priority for every design. It uses Prada Sport's iconic red line logo. It marries the luxuriousness of Prada with stylish activewear.
As part of the vast Prada Sport collection, now on sale for as low as $89.99 exclusively on ShadesDaddy.com, here are a few of our favorite styles:
Just in time for the Holidays
Whether you're a fashion diva or you're getting your holiday shopping for the fashionista in your life, buying a pair of Prada Sport for the holidays is a can't miss opportunity. At ShadesDaddy, we know you deserve to look your absolute, dazzling best during the holiday season and being able to show it off and strut your stuff with your loved ones is an opportunity you cannot miss!