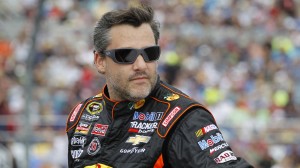 What Oakley sunglasses does Tony Stewart wear?
Oakley is primarily a sporty brand. Its eyewear reflects this. What better way to drive home this point than to collaborate with a NASCAR legend? This is what Oakley has done with its exclusive collaboration with Tony Stewart. After all, world-class athletes need world-class eyewear that provides them with greater contrast and precise vision under incredibly stressful conditions. Oakley's Monster Pup sunglasses helped to provide Tony Stewart with enhanced vision during his super high speed drives.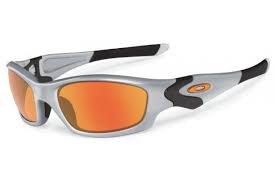 The Oakley Monster Pup sunglasses are an awesome piece of art and technology. Its uber stylish and comes in a range of colors – polished root-beer, matte black, olive tortoise and rust. They're urbane, they're trendy and they're mighty cool! It's no wonder that the world took to these frames like a fish takes to water when Tony Stewart sported them during his NASCAR sprints. These cool pairs of shades come fitted with all of Oakley's brand characteristics – extremely lightweight yet durable frames that are also stress-resistant, comfortable fits that can be worn all day, high precision Plutonite lenses that provide 100% UV protection, metal accents and the highest standards recommended by the industry.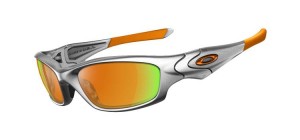 Most Oakley glasses are bold and aggressively designed. The Monster Pup sunglasses are less aggressive in design. While the default lenses provided are grey in color, you can always switch to the bronze or dark-grey versions if you prefer a chance. And if you need them replaced with prescription lenses, Oakley has readymade lenses in a wide spectrum of powers that can be used with your favorite pair.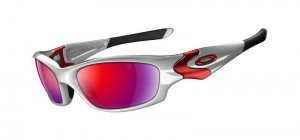 The Straight Jacket is another pair of Oakley shades that Toney Stewart loves to sport. These come in a solid matte black and are uncompromisingly bold and sporty. They are enhanced with durable, synthetic, resin frames that are light and can hence be comfortably worn all day long. While the default style offered by Oakley comes with non-polarized glasses, Oakley will honor your request to replace them with customized prescription lenses through your favorite Oakley dealer. Straight Jacket also epitomizes Toney Stewart's straight style that encourages you to set your own style, through your work, through your actions and through your inherent way you live your life. If you are a straight shooter, set your own style quotient and couldn't care less what the rest of the world thinks of your style, you definitely have the nerve and the steel to sport the Oakley Straight Jacket. Try it, and you're sure to love it!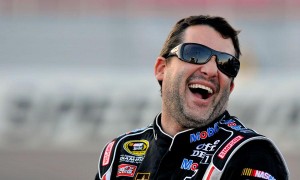 Oakley collaborates with reputable dealers worldwide to bring their sporty shades to you. ShadesDaddy is one of their better dealers and stocks sunglasses and eyewear from leading brands. If you are looking to emulate Tony Stewart's style or build your own style statement through designer Oakley shades, you can check the ShadesDaddy website to kick-start your journey.