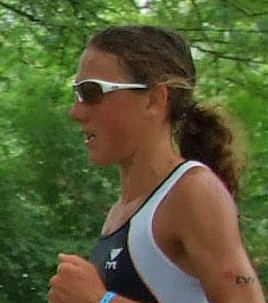 Who isn't inspired by the amazing Chrissie Wellington? This professional athlete has wowed the world by winning the Ironman Triathlon World Championship a mind-boggling total of 4 times. She has also held the record for ironman distance triathlon races. The exciting sports journey of Chrissie ended in 2012 with her retirement, but fans all across the globe still hold her in reverence and admiration. Her personal style statement has also been a constant talking point amongst sports enthusiasts. This article specifically talks about the eyewear used by this sports icon.
Known for her active interest in topics like international development and gender equality, Chrissie's choice of sunglasses reflected her inner self. She was mostly seen with Oakley's Enduring Breast Cancer Awareness sunglasses. Let's take a look at what makes these shades so special.
Oakley, a brand renowned for keeping up with the times has churned out the thoughtful yet statement worthy, Enduring Breast Cancer Awareness sunglasses. These glasses are available in pink colour, as a nod to all the woman who face the trials of being diagnosed with breast cancer. Now, let's get technical and take you through all the different aspects of these outstanding glasses.
One of the first sport performance eyewear designed specifically for women, these special edition Enduring shades feature the premium Oakley technology. The shades have an interchangeable lens design that brings together the clarity of HD-Optics with a permanent Hydrophobic lens coating. This unique combination helps in eliminating water sheens and also repelsskin oils, lotion, and dust.
The Endurance sunglasses are available in two sizes of nosepiece that enables you to customize the fit and consequentially provides easy wear. You can expect all-day comfort with these shades and put the contrast-boosting G20 lens to action by trying them out in different lighting throughout the day. To add more to their idea of cancer awareness, the makers have a breast cancer awareness ribbon printed on the stems of the frame, and each pair of glasses also comes with a specially designed pin to further bring positive change regarding the cause.
The O-Matter material used for the frame brings an advanced level of durability and all-day comfort to these lightweight, stress-resistant shades. Providing enhanced sports performance and comfort, the frame is especially designed to suit a woman's face structure. The glasses offer enhanced peripheral view and side coverage of polaric geometry making them the perfect choice for sports that require wide-viewing angles and clarity of vision. With your purchase you will get an eyewear case, and a custom built Microclear bag that provides the option of lens cleaning and frame storage.