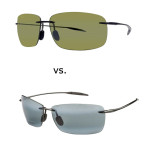 Are you wondering which Maui Jim sunglasses should you choose; the Maui Jim Breakwall or the Maui Jim Lighthouse? The reason you may looking into buy Maui Jim sunglasses is, most probably, due to your love for everything outdoors. If you like to spend your days soaking up the sun and participating in various outdoor activities such as volleyball, running, jogging, hiking, and more, Maui Jim Breakwall and Maui Jim Lighthouse might be suitable for you.
However, before you make your selection, you should pit them against each other, and then make your choice. We will look at the similarities and differences of each pair of sunglasses, which you can use to aid your decision on which will be suit your face, personality, and lifestyle the most. First up is the Maui Jim Breakwall.
The Maui Jim Breakwall will provide your eye with the utmost protection. The lenses, which are made using advanced polarized technology, limit the penetration of UV rays into your eyes. In fact, it eliminates 100 percent UV rays. The lenses also have the capability to provide your eyes protection from the nasty glares emitted by the sun up to 99.9 percent.
This is due to the material used to make the lenses known as polycarbonate. The unisex and extra wide fit with metal frames are one of a kind. Both men and women can wear the Maui Jim Breakwall sunglasses. The arms of the sunglasses along with nose pads made using silicon will wrap around the wearer's ears comfortably.
The wearer will not have to worry about them slipping of the face either, which is thanks to its design. Regardless of your face shape, the slightly rectangle shaped sunglasses will complement the shape of your face.
Just like Maui Jim Breakwall, both men can wear the Maui Jim Lighthouse and women, the lens are rectangle and polarized, and size is extra wide fit. The frame material of the Maui Jim Lighthouse is made from nylon instead of metal. The sunglasses are rimless, lightweight, and extremely durable. They help ward of glares and UV light. However, the prominent rectangle shape of the Maui Jim Lighthouse will not fit every face shape.
What Can You Expect from Both?
The Maui Jim Breakwall and Maui Jim Lighthouse sunglasses are perfect for people who spend most of their time outdoors. They both have the same function, which is to eliminate glares and UV rays, making them ideal to wear when participating in an outdoors activity. In the end, your choice will depend on your own personal style and preferences in sunglasses.
If you were to ask for our opinion, we would suggest you go with the Maui Jim Breakwall if you are very active outdoors. Choose the Maui Jim Lighthouse if you want to wear sunglasses for regular use and not so much for doing strenuous activities. Make your decision wisely!