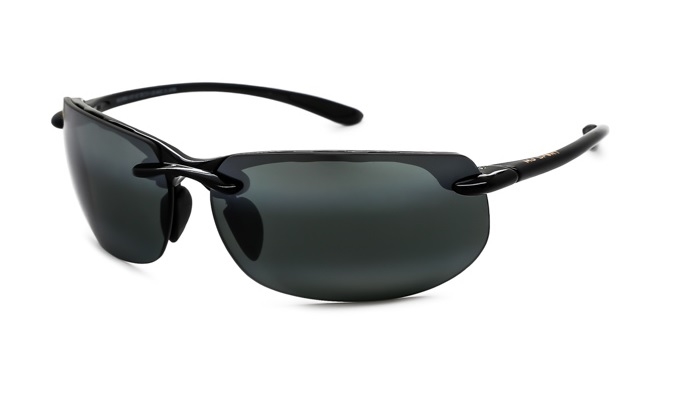 Maui Jim Banyans Sunglasses caters to the golfers, cyclists, fishermen, professional athletes, and the weekend athletes. The rimless sunglasses, like all Maui Jim's sunglasses, are lightweight and comfortable. The sunglasses lenses have a unique quality of their own. They have the ability to eliminate 99.9 percent of glare and 100 percent of dangerous UV rays.
However, that is not the only unique quality of the lenses. They are also scratch-resistant. In fact, they are shatterproof! The designer's use of polycarbonate as the lenses material has enabled the sunglasses to become 20X more impact-resistant. When you look through the Maui Jim Banyans Sunglasses, the colors will be vivid and bright. The sunglasses seem to hit all the pet peeves of an athlete.
They have gone so far as to make sure that the Maui Jim Banyans Sunglasses never slip off the face during strenuous activity. If you are playing volleyball, you will not have to hold on to your sunglasses to spike the volleyball over the net. The sunglasses gain this incredible ability from the adjustable nose pad made using silicone.
You can jump, run, and even fall, the sunglasses will remain in place. Even if you fall down, they lenses will remain unscathed. A little something more we liked about the lenses was how it is able to reduce visible glare from snow, pavement, water, and sand, which then allows you to participate in outdoor activity free of eye strain. It also enhances your visual perception.
Overall, you can tell the designers behind the Maui Jim Banyans Sunglasses worked towards providing the wearer with optimal comfortable. They wanted to provide people with a pair of sunglasses that would remain part of their daily sport related activities. You do not have to love sports or outdoors to purchase a pair, as you may be drawn to its style.
The thin arms, which wrap perfectly around your head and the rimless lenses, may win your over. You can choose from a variety of different colors, gloss black frame with high transmission lens, gloss black frame with neutral gray lens, gloss black frame with Maui HT lens, tortoise frame, and tortoise frame with HCL bronze lens.
Since all the properties of the Maui Jim Banyans Sunglasses make the sunglasses indestructible, unless you crush them on purpose, but why would you, you might fancy a pair of your own. The Maui Jim Banyans Sunglasses have proved its worth, as reliable and flexible.
Should you own a pair? You definitely should own a pair! If your life revolves around sports, hiking trails, fishing, mountain climbing, and other fantastic outdoor activities, you can certainly use a pair of Maui Jim Banyans Sunglasses.
After testing out all the qualities of the Maui Jim Banyans Sunglasses, we have come to the decision that we are really pleased with the design and its ability to stay on our head, even when we are running frantically everywhere. That's why, we give the sunglasses a rating of 4.5 out of 5!