Here is the perfect styled pair of sunglasses both of which come with the best of the features.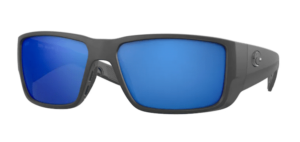 The Costa del Mar Blackfin is the polarized pair of sunglasses with polycarbonate lenses with crisp vision and quality protection. They are required to push the limits no matter what the conditions are. The pair comes in dual color heavy duty frames and is crafted for hard core outdoor conditions. The propriety coating repels oil, dust, and water. These are perfect for keeping up with your fast paced lifestyle. The great impact resistance is proven by ANS. It features the polycarbonate lenses that are lightweight, UV protected and of course impact resistant.
The UV protection and the 100% polarization both are great for athletes in the sense that they can minimize visual fatigue and glare really easily. The Co Molded technology was specifically put in for comfort and durability.
The Blackfin Sunglasses feature the clearest lenses on the planet. The technology blocks yellow, red, and green light, and raises the polarizing efficiency. All Black Fins have mirror glasses made of top quality material. You will want a pair with you if you often indulge in water related activities.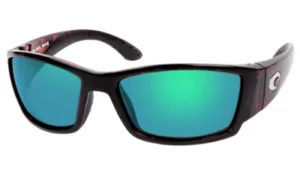 It does not matter on how big an activity you are indulging in, you could be biking to the grocery store or crossing a glacier, it does not make that big of a difference; these are the sunglasses that will keep you going with your eyes protected from the UV rays. They will also from other harsh elements that make their way towards you. It could be the glare from the water or grime trying to get its way into your eyes. The Coast Del Mar has always been a boater and fisherman's pair. They offer a whole range of lenses and tints for various sporting conditions. The Costa 580 Lens is made out of company's LightWAVE glass material. This also comes with a silver mirror finish on the entire polarized copper lens. According to the manufacturer, the lens is the most versatile thing about these, making them great for everyday uses like skiing and water sports.
The optical quality is beyond compare; they work fine against even the worst of glares. When you wear these you will see for yourself how the lens gets rid of the yellow light to bring out the greens, blues, and reds. This is very convenient for both fishermen and divers.
The frame is medium large, even though it may seem coming with a tag of XL, it is not. Therefore, it is perfectly fitting for most face sizes. The nylon design has flexible rubberized tips and these are integrated into the temple arm for maximum comfort. In fact, unlike most other sunglasses, these come with the entire frame covered in no slip material.