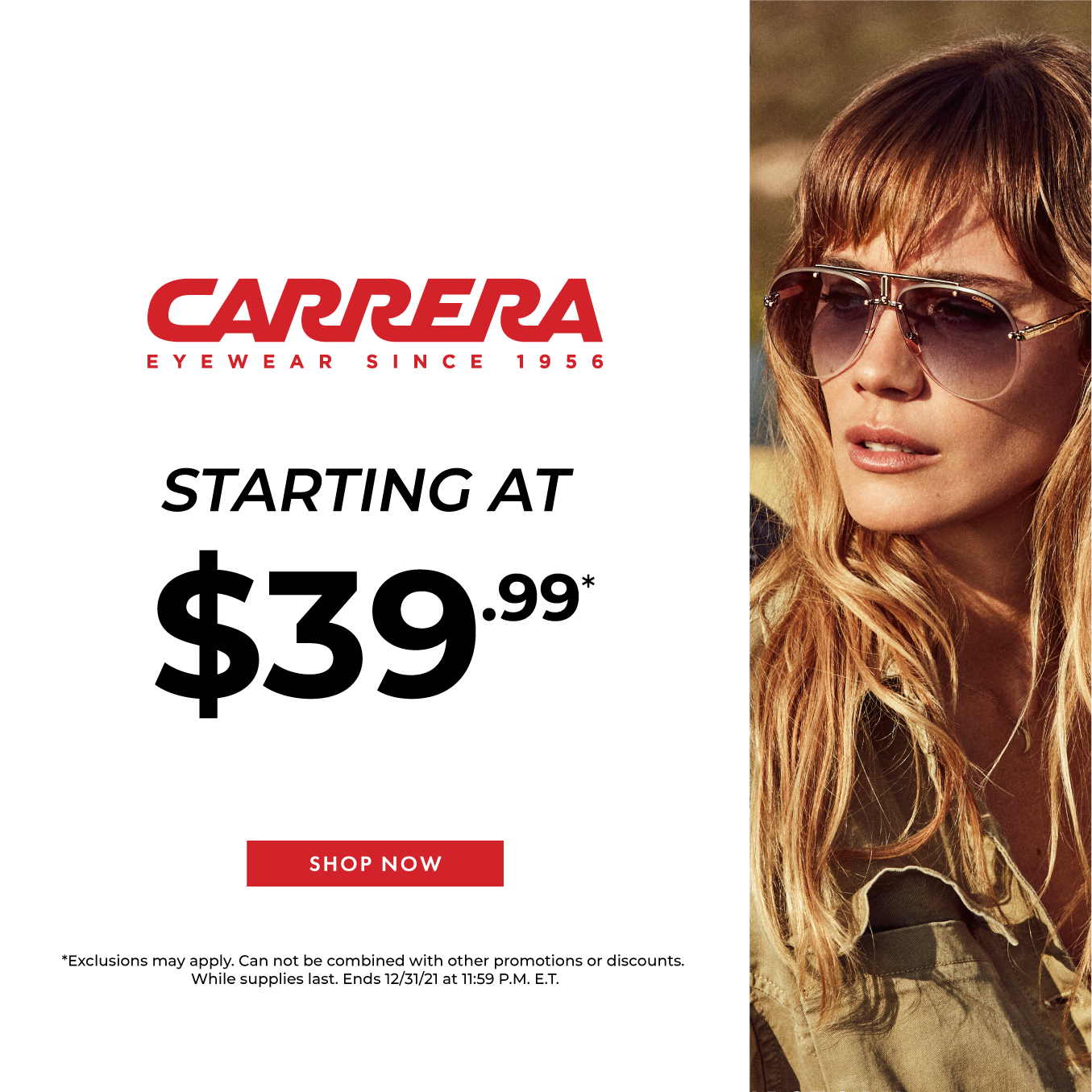 With the holidays right around the corner, ShadesDaddy is excited to announce our brand new Carrera holiday sale, with eyewear on sale starting at the low cost of $39.99. Our exclusive sale is going on now, so you won't want to miss out on this exciting new offer.
The Carrera line comes from the proud Italian-made brand that has showcased its sports glasses and sunglasses since 1956. The originators of Carrera started their humble company with a knack for protecting the eyes of the active. Carrera pushes the limits of what eyewear should be for wearers who live an active lifestyle – namely, in outdoor sports or racing. Carrera has soared above the competition as the undisputed leader in sports eyewear.
Many frames use an iconic "C" in the center of their frames. This motif comes from a signature frame Carrera released at the beginning of its brand history.
Their black–red–black color stripe motif has also become an iconic Carrera symbol. Many elements of their designs draw inspiration from the lines of race cars of the early 1970s. Carrera was the first eyewear brand to place its logo in the direct center of a frame.
Carrera shifted its focus in the late 1980s when the brand joined forces in collaboration with Boeing to create the perfect frame. This broadened their widespread line of eyewear. A new shock absorber in the temples of these new frames ensured maximum flexibility merged with a striking design for all who wore the iconic brand.
Today, Carrera continues to evolve with innovation and character. The brand is famous for pioneering design with maximum quality. Carrera has risen in the ranks of sunglasses and glasses, developing a statement brand for those who live by their own rules.
Each frame is carefully crafted with utmost character and personality. Carrera wearers experience the brand's quality and unmistakable designs. The brand takes its beginnings in sports and incorporates the passion into each new design to create a distinctive experience like no other.
As one of Carrera's key distributors, ShadesDaddy is happy to give our loyal customers a more affordable Carrera experience with our Carrera holiday sale. With sporty shades as low as $39.99, Carrera can be yours to enjoy and showcase this upcoming holiday season.
Check out a taste of Carrera's showstopping style with a few of their frames below and truly experience eyewear like you never have before this holiday season. Give yourself or a loved one a treat this winter and wear Carrera with pride:
With a flair for the sporty but classy look, Carrera wants you to feel the need for speed with their wide range of eyewear. Carrera's sporty sunglasses can be yours for as low as $39.99 this holiday season – only through ShadesDaddy.com.