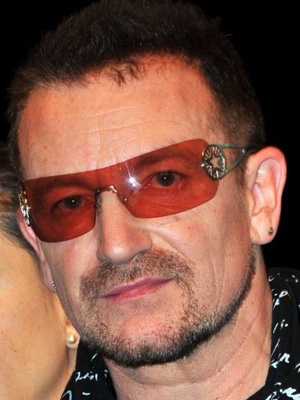 Music icon and humanitarian Bono, leading rock band member of U2, is not only well known for his numerous musical masterpieces and multiplatinum selling albums, but he is also very well known for constantly wearing a pair of sunglasses no matter where he makes an appearance. His latest acquisition is Emporio Armani EA9592 N/S 006 shades.
It's not like we are not used to seeing rock stars hide their droopy eyes or hung over state behind lenses, but what is it with Bono and shades? Have you ever seen him without a pair? I don't think I can recollect the last time I saw this star's naked blue eyes since back in 1980's!
He is definitely a serious musician with a huge heart. Named as the most politically effective celebrity of all time by the National Journal, this philanthropist has many charitable events and benevolent organizations under his wing, including a collection of awards and titles regarding his pro-bono (no pun intended) work. But what is it about sunglasses that has this musician so clinged to them? Here is a quote from a Rolling Stones interview where Bono gives us an explanation:
"[I have] very sensitive eyes to light. If somebody takes my photograph, I will see the flash for the rest of the day. My right eye swells up. I've a blockage there, so that my eyes go red a lot. So it's part vanity, it's part privacy and part sensitivity."
This condition better known as Photophobia (light sensitivity) makes eyes overly sensitive to light, possibly causing pain, tearing and discomfort if not protected properly and can worsen with age.
His strong 'sunglass-wearing' trademark has made him one of the most sought out celebrities by sunglass manufacturing companies and high-end brand names such as Emporio Armani and Bvlgari.
Before rockin' these new Armani's, he toured Europe and US wearing these: Emporio Armani EA9285. He was then photographed wearing the same exact model during President Barack Obama's inaugural concert in Washington.
Whether he wears them to protect his eyesight or just for pure fashion statement, one thing is certain, Bono sure knows how to rock not only the music world but sunglasses as well!
Want to wear the same sunglasses Bono wears? We currently have one color available: Emporio Armani EA 9592 N/S 006 Black Frame Sunglasses