An unobstructed view is necessary when playing any sport. You want undiluted attention on your opponents and the game at hand. Weather conditions can negatively affect your performance, and the right sunglasses can help protect you from the harsh glares of sunlight, wind and improve vision during the night. But all this is only possible if you invest in the right pair of sunglasses.
Sports sunglasses are not only a fashion statement that should be chosen depending on latest fashion trends. Oakley offers a wide range of standard and custom sports sunglasses that check all the boxes for protection and performance boost. However, not all Oakley sports sunglasses are ideal for playing baseball. Each sport has a different structure and a different environment. Following are a number of Oakley sports sunglasses suitable for baseball that will work with you to hit a home run every time:
Oakley Polarized Flak Jacket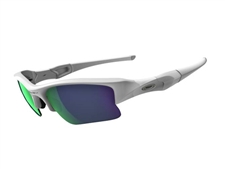 Oakley Polarized Flak Jacket offers protection, comfort and clarity.
The sunglasses offer interchangeable lenses for different weather conditions. You can select multiple lens colors for different weather conditions. Brown, amber and copper are the most popular lens colors for baseball players as they block the blue light and help differentiate between the sky and the ball by increasing contrast. Grey lenses reduce the overall brightness while offering visual clarity.
Oakley Flak Jacket comes with interchangeable nose pads for customized secure fit. The Unobtanium grip only increases with perspiration, making it easier for players to focus on the field rather than on how to keep the glasses in place.
Oakley Flak Jacket offers 100 percent UV protection and the polyurethane lens is virtually unbreakable making it as safe as it gets.
These sunglasses are frameless at the bottom which means you get a complete view without any obstruction.
You can get your flak jacket sunglasses customized including prescription lenses, frame and lens colors, icons on the lens, ear socks color and text etching.
Why should you choose Flak Jacket? Simply because all the top athletes including Jason Bay and Tim Lincecum use it, and if it is good enough for them, it sure is good enough for you.
Oakley performance lens are available in many colors that can be changed within seconds for optimized vision depending on the environment.
The stem sleeves and adjustable nose pieces are made of Unobtanium that increase grip with perspiration.
These are stress resistant and light weight and ideal for comfort for longer periods, making them a suitable fit for baseball.
The semi-rim design does not block the downward view so you get an optimal view while the surge ports help keep a cooling airflow.
The optical clarity of Radar exceed the ANSI Z87.1 standards.
You can also get it customized according to your personal needs and preferences.
Oakley Radar Path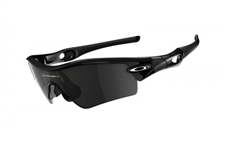 Oakley Flak Jacket and Radar sunglasses are the most popular options for baseball players due to the comfort, fit and clarity. Oakley Fast Jacket and M-Frame are also widely popular because of clarity, fit and design.