When you choose sunglasses you need to keep in mind the shape of your face. The main objective is to find a frame that lends contrast to the shape of one's face. For round faces, one must necessarily avoid glasses which exaggerate the roundness of the face. Rather, one should opt for frames that give a thinner and longer appearance to round faces. The best way to add contrast to a round face is to select square or rectangle shaped sunglasses that can add angles to the roundness of a face. Even choosing wider frames is a great option as it helps balance the fullness of a round-shaped face.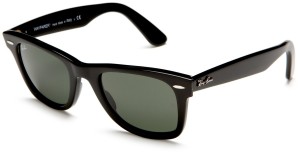 Ray-Ban Wayfarers
retro style sunglasses can be a wonderful choice for those with round faces. In fact, Ray-Ban's Original Wayfarer Classics are among the most popular frames in the history of sunglasses. This particular frame style from Ray-Ban has been worn by many well-known celebrities over the years.
The Wayfarer by Ray-Ban has numerous styles from which one can choose a pattern most suitable to one's personality and preference. The most common designs available with Ray-Ban are Original Wayfarer, New Wayfarer, Wayfarer Folding, and Wayfarer Special Series. Putting on a black-framed Wayfarer sunglasses from Ray-Ban can actually accentuate your personality. If you want, you can also try out the specially treated glass like crystal green or the crystal gray gradient.
If you are looking for a stylist pair of sunglasses from Ray-Ban for your round face you can try out the huge collections from ShadesDaddy.com and you will surely be able to find something that adds to your charisma.
However, Ray-Ban offers you with the best collection of sunglasses yet as a buyer, you need to keep in mind a few interesting facts before you purchase your dream sunglasses.
It is always a good idea to choose frames, which are wider than your face. This is important because that way your face tends to look thinner
Sunglasses which have embellished or branded arms are more convenient in adding definition to a round face
Males who have a round face can choose the sunglasses which have a solid acetate framework in dark colors and prints. Such sunglasses will not only give an angular look to the face, but, also will add a masculine touch to the overall look
Females can accentuate their looks in case they have a rounded face with embellishment and gradient lenses. Lenses which come in soft ambers and lighter shades of purple combined with rectangular frames can be an apt choice to add to the elegance of a lady
Wayfarer frames, which have a unisex appeal with bold prints and colors can be an excellent choice for round faces