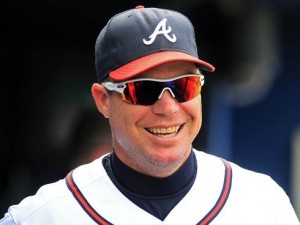 Any baseball fan would swear by the talent of one Mr Chipper Jones. In his 19-year career, Jones has never strayed and was always loyal to his team, the Atlanta Bravers. This third baseman for major league baseball has shown similar dedication and loyalty to the brands he supports. Let's take a look at his choice of sunglasses in this post.
Chipper Jones has always been an Oakley fan. This fact was proved by his selection of shades, both off field and on it. Jones was mostly seen sporting a custom made Oakley Radar Path sunglasses. What makes these sunglasses so special, you ask? Here's what you need to know about Jones favourite pair of glasses:
Oakley Radar Path, are custom made sunglasses that have been the go-to choice for sportsman for a long time now.These beauties have all the fine tunings of an eyewear that will provide you safety and comfort for an extended period of time. These beautifullymade shades feature pitch lenses that are slightly curved at the bottom to provide wider viewing angle, while enhancing downward vision. Another feature that brings a considerable edge to these glasses over others in the market is the placement of surge ports on different parts of the glasses to give increased airflow. This not only provides the wearer a consistently cool breeze on the face, but also helps keep the energy level up.
To add a new dimension to your comfort level, the creators of Oakley Radar Path sunglasses have used Unobtanium ear socks and nose pads that offer better grip and comfort even when you are sweating heaving during hard activities. Bring these glasses along on your next outdoors adventure and experience comfort and an enhanced level of comfort.
These specially designed shades boast of a Three-Point Fit technology that keeps the lenses optically aligned while keeping them tightly fit to the frame. What this does is it helps in relieving the pressure points that are usually found in frames that hook the ear. This degree of relaxation on offer is one the prominent reasons for their dominance in the sunglasses market even after all these years.
O-Matter tech, an innovative technology from the house of Oakley is used for the construction of the frame. This not only adds a certain lightness to the glasses, but also enhances their durability, making them ideal for prolonged use. Oakley Radar Path sunglasses are sold with a pocket-friendly Sport Soft Vault cases that keeps the shades from any kind of damage. Get your hands on one of these custom made glassesbased on your specifications and witness a whole new experience.
Get your favorite CHIPPER JONES MEMORABILIA at Amazon Now.