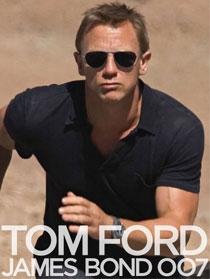 One of the most popular Tom Ford (TF) sunglasses sold in 2007 was the 108 model worn by Daniel Craig, who plays the role of James Bond for the Quantum of Solace film: [Dressed casually and wearing Tom Ford 108 sunglasses, James Bond arrives to Port au Prince -Haiti, and makes his way by taxi to Hotel Dessalines on the tail of Mr Slate.]
For the newly announced James Bond "Bond23" film (going into production later this year), Tom Ford decided to redesign the popular shades for a newer, slicker version which they have given the name of William. The William has pretty much the same look as the original 007's except for an additional bar on the bridge part on top of the nose. They are not considered a large frame and sit really well on the face.
Daniel Craig will be returning as the legendary British secret agent, with Sam Mendes directing a screenplay written by Neal Purvis, Robert Wade and John Logan. As the film is expected to do very well in box offices around the world, this new model is expected to sell out just as well after the great success they had with the original design.
In 2005, Tom Ford announced the creation of his own personal brand after joining ventures with Domenico De Sole, Gucci's former President and CEO, who serves as the Chairman for the company. Later that year, Ford announced his partnership with Marcolin Group to produce and distribute optical frames and sunglasses. Ever since then, Tom Ford eyewear has become one of the strongest and best selling brands for this category. He has grown to be the one of world's most popular and in demand designers after having worked with Gucci and Yves Saint Lauren.
Tom Ford sunglasses represent true style and elegance of Italian luxury. Wearing any pair will automatically ascend your look to that of sophistication and make you look fashionably chic. Add the James Bond aspect to it and you have yourself a killer combo!
Check out a pair of Tom Ford William.