Don't worry, blue jeans aren't going anywhere. There is a new rising trend for summer 2011 and fall 2011 as well…that is Technicolor jeans. Whether you want to rock a pair of blue jeans, red jeans, mustard color jeans, you'll be in style this summer / fall.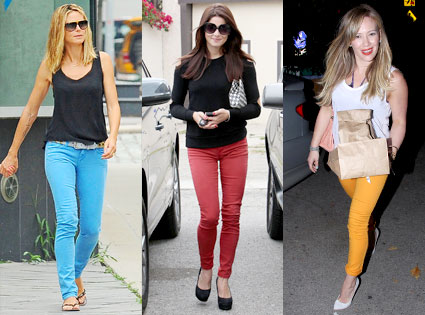 From Mystyle.com, "Blue jeans will always be a staple. But colored denims are making becoming one of the most must-have items. The key to wearing them is keeping the top portion of your outfit simple; notice how all the ladies opted for a black or white hue. Ashley and Hilary even matched their tees to their shoes. Plus, they still allow you to have fun with accessories. The Twilight gal wore a black-and-white houndstooth clutch, which gave her a classic look. You can easily match this to anything with from tribal to florals. Also, take a cue from Heidi and make the belt your statement maker. And if you want to be able to transition the jeans from summer into fall, invest in a pair with a darker shade like mustard yellow or maroon red."
If you rock Technicolor jeans, you'll want to wear a solid darker color…the same tip goes with a pair of sunglasses. While colorful solid color sunglasses are in style, you'll want to solid it up with a pair of Technicolor jeans.
Our recommendations for this would be:
-PLASTIC BLACK SUNGLASSES
-PLASTIC TORTOISE SUNGLASSES
-PLASTIC MATTE BLACK SUNGLASSES